The Amalfi Coast has been quite the hot spot recently for Travellers seeking the enchanting beauty of Italy's mountainous coastline lined with colourful and chic towns. Caribbean gem with transparent blue waters flowing onto white sandy beaches surrounded by wonderful resorts, relaxing beach bars and spot-on restaurants. It is the perfect place to wear a bikini and sip on tasty pina coladas or partake in all its fun water sporting activities like scuba diving, sailing or horseback riding.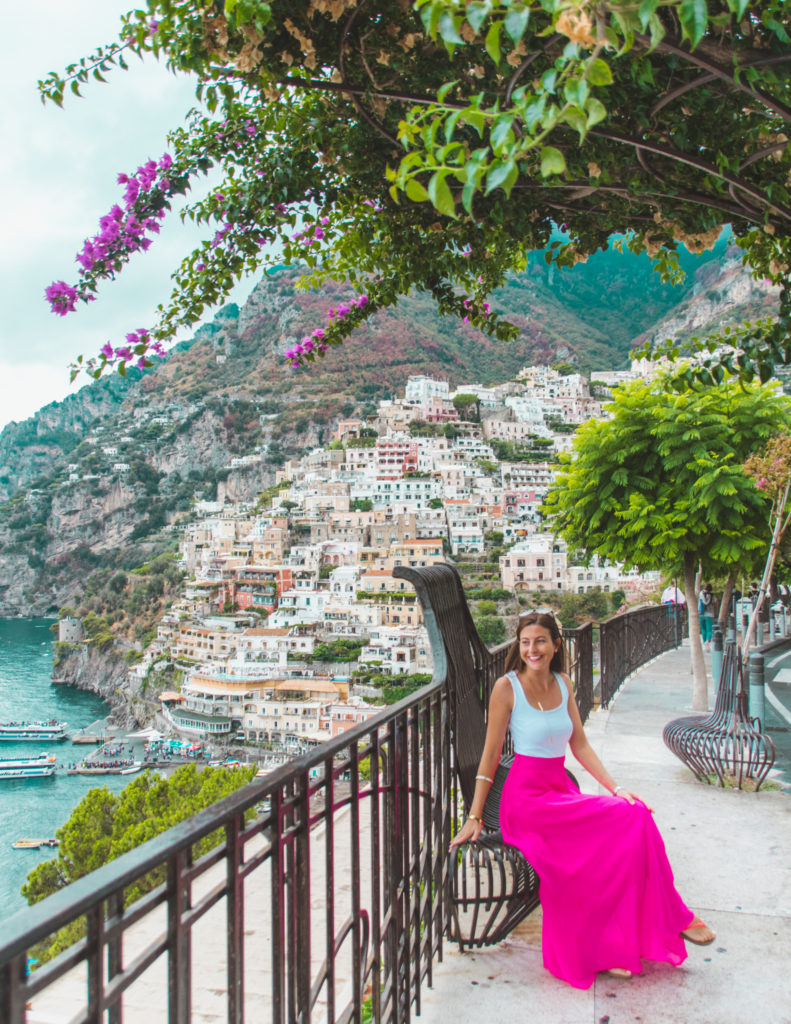 How to Get there?
Fly into Napoli Airport and you can either get to theAmalfi Coast via these options:
Bus – you can take the x bus from airport all the way down to Praiano
Train – take the bus or taxi to the train station however train stops off at Sorrento and then take local buses to each town.
Taxi or Private Hire – most convenient option and usually range from 100-120 euros
Sorrento
BelleVue Syrene (Stay, Eat & Play)
The Belle Vue Syrene is an elegant and contemporary 5 star hotel that opens your eyes to intimate luxury with a romantic setting with a breathtaking shoreline of the Mediterranean sea. Dining outdoors in on the panoramic terrace of La Pergola restaurant is perfect for hot summer days while enjoying the cool seaside breeze. The hotel's friendly and accommodating staff help guide you through the exciting selection of local cuisines and tasteful wines. It is an unforgettable hotel and a must do even for sunset drinks and apertivos at La Pergola.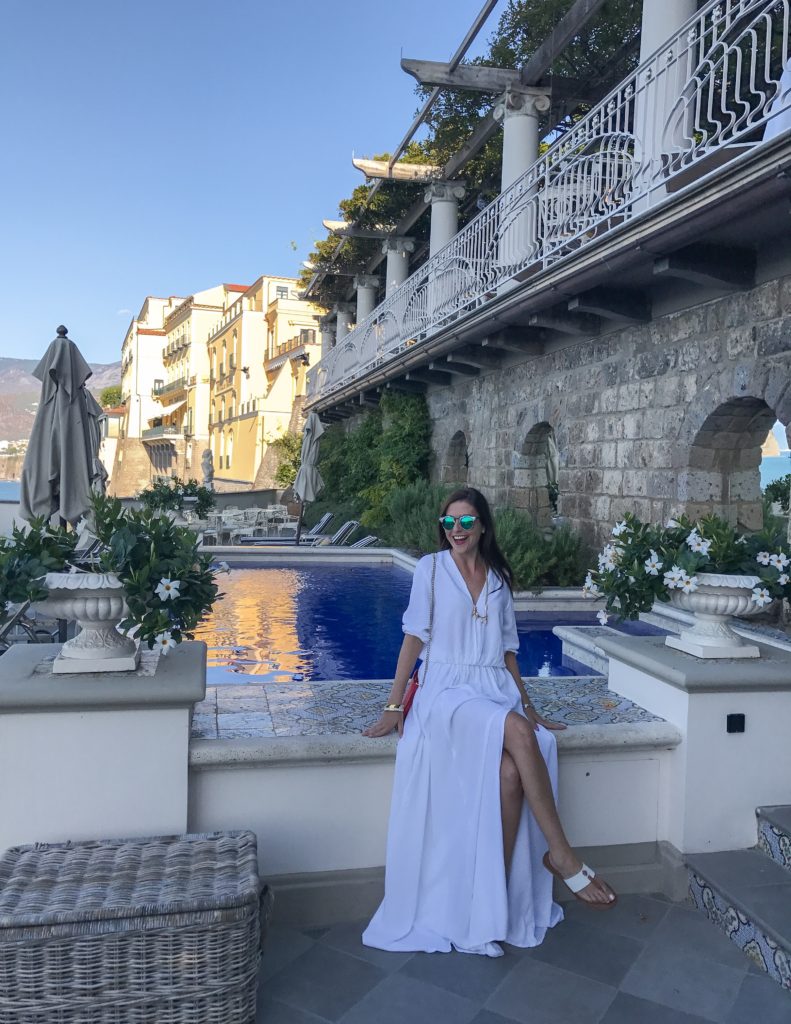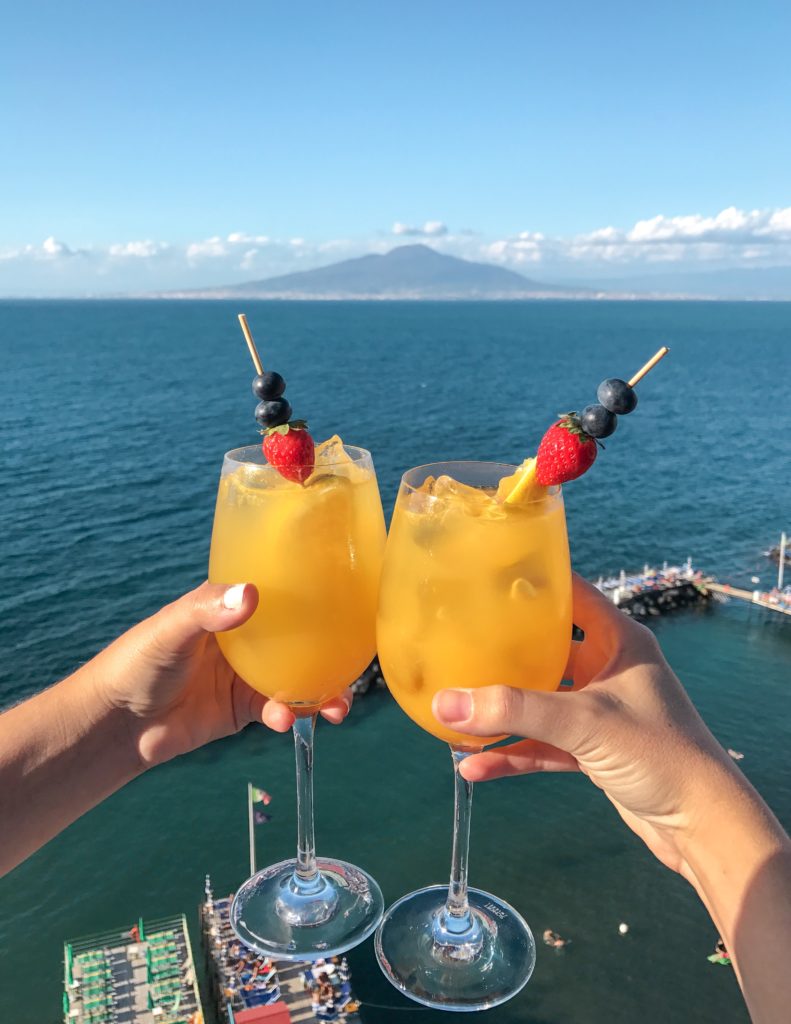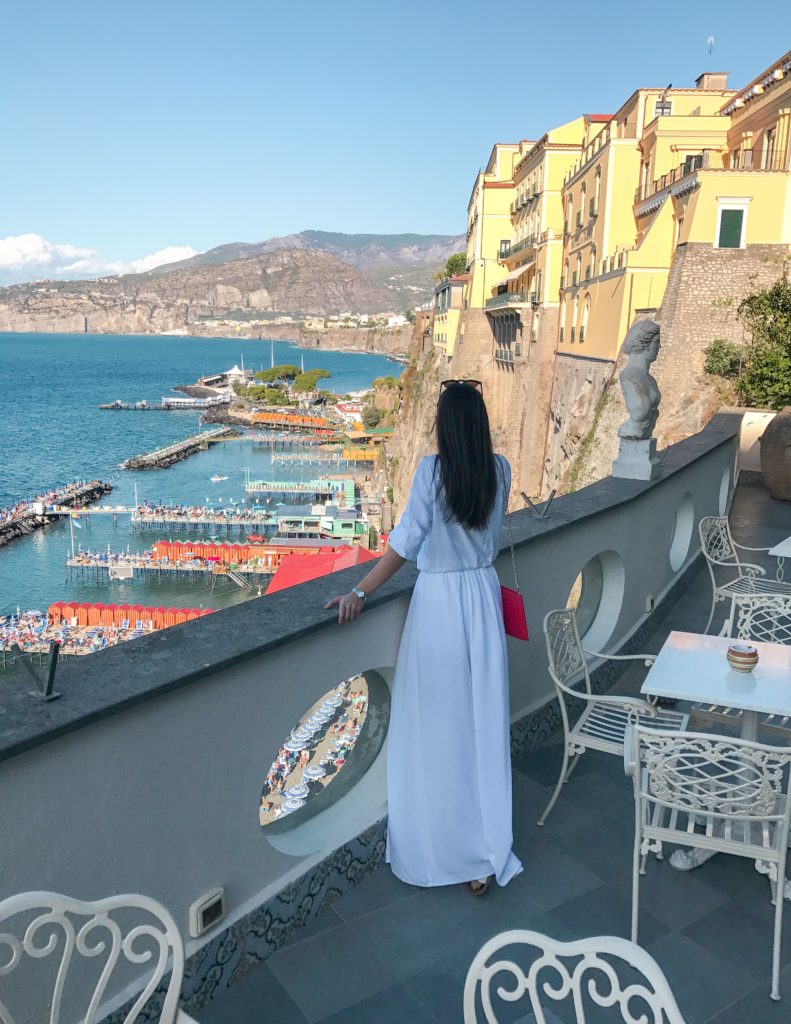 Grand Hotel Excelsior Vittoria (Stay, Eat & Play)
The elegant Grand Hotel Excelsior Vittoria is an award winning 5 star luxury hotel situated in the heart of Sorrento overlooking the Gulf of Naples. The hotel is quite the hot spot for celebrities as they come to relax and experience its exquisite ambience. The hotel is known for its charming Bar Vittoria with breathtaking views of the bay and two fabulous restaurants – Terrazza Bosquet Seafront Restaurant (Michelin star) and L'Orangerie poolside bar & restaurant. If you choose to dine at Terrazza, make sure and select the 7 course option with champagne – totally divine!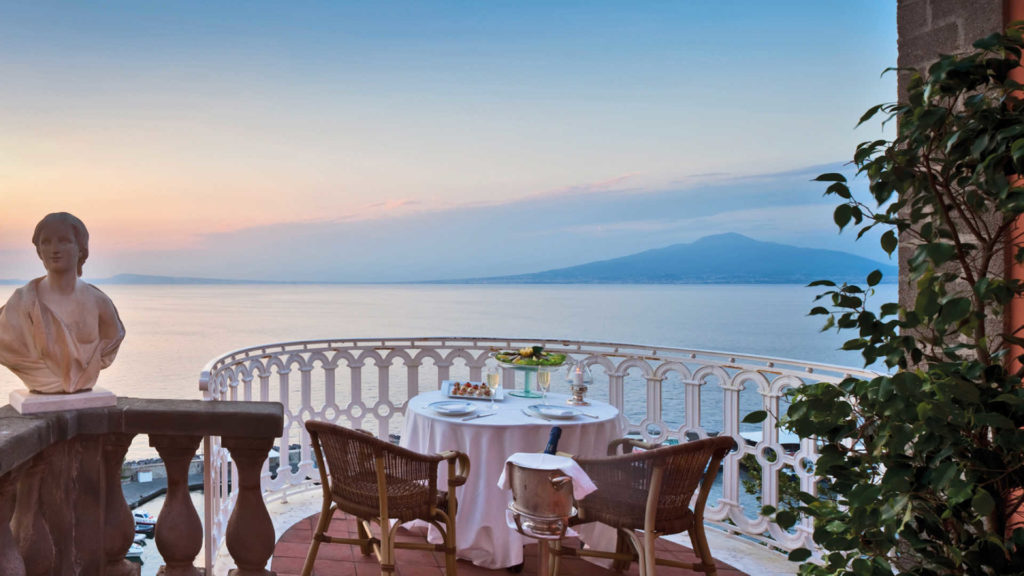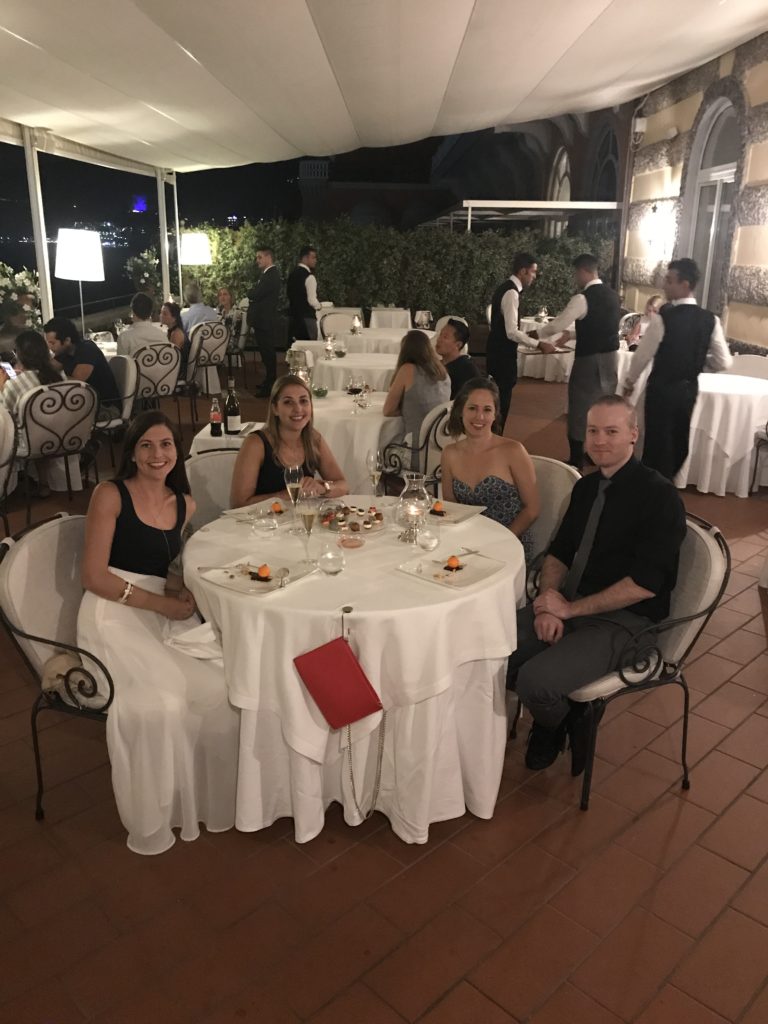 Mignon Hotel (Stay)
Mignon Hotel is an excellent choice for travelers looking for absolute charm in the city centre of Sorrento but looking to spend a pound and a crown. The hotel is just the most adorably styled bed and breakfast. Greek Island designs of white and blue tiles with an al fresco restaurant perfect to sip on mimosas in the morning. The room was spacious and comfortable and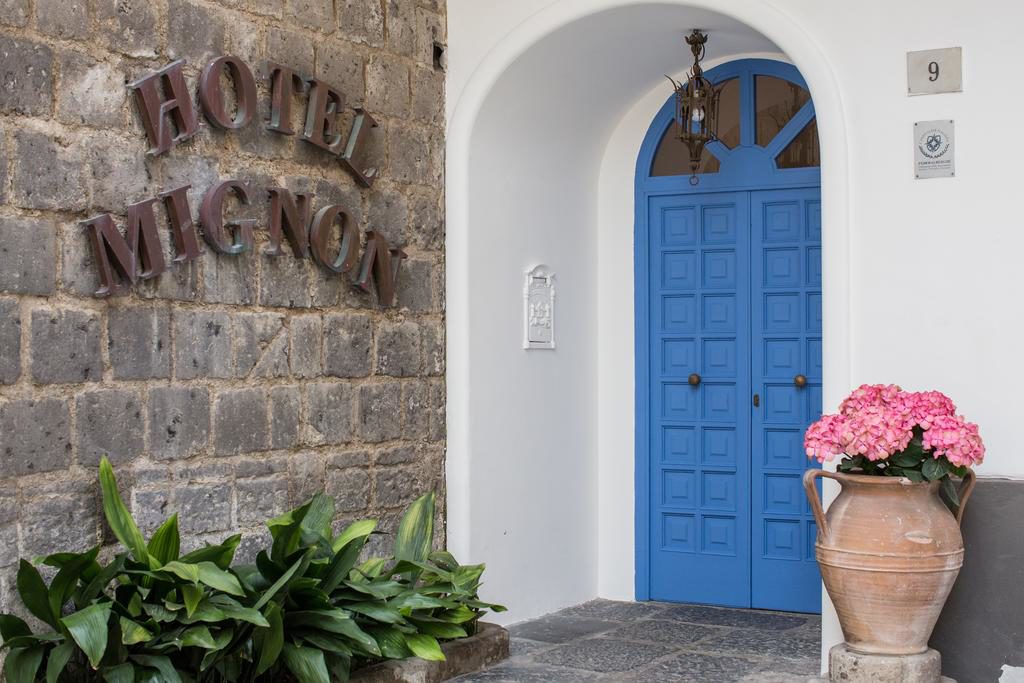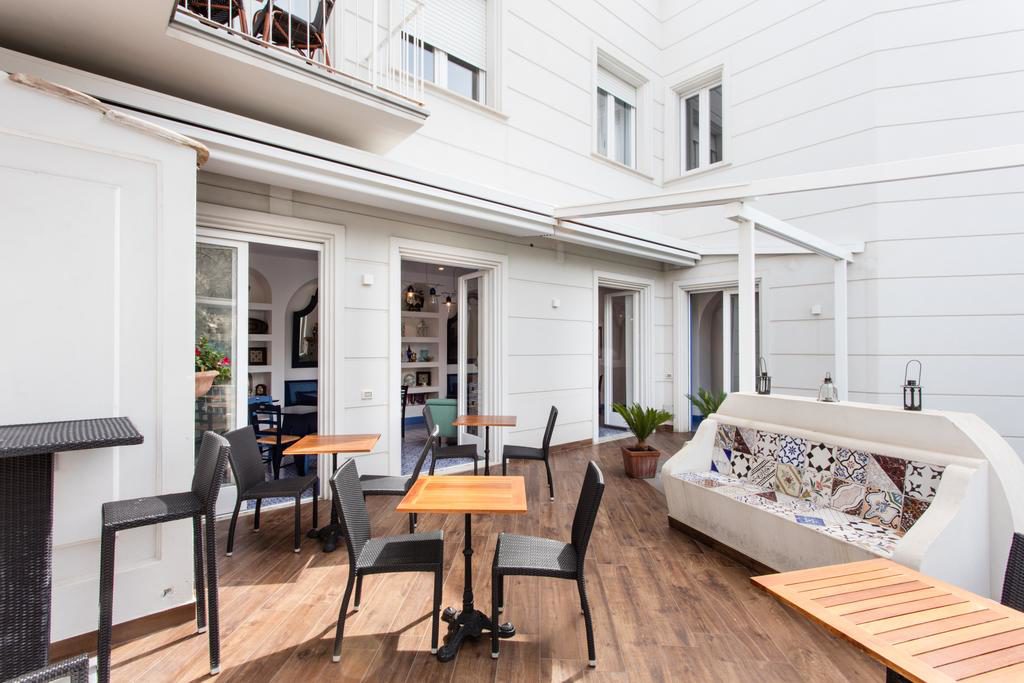 Chiostro di San Franesco (Play)
While roaming around Sorrento, you will come across the Chistro di San Franesco which is a 14th century church built on the ruins of a 7th Century monastery situated in the historic centre of the city. It is a tiny oasis that has a range of architectural charms from pre-Roman through Arabic to medieval with its interlacing arches. Admission is free so it is a great place to take a break and relax while enjoying the lovely cloister and gardens.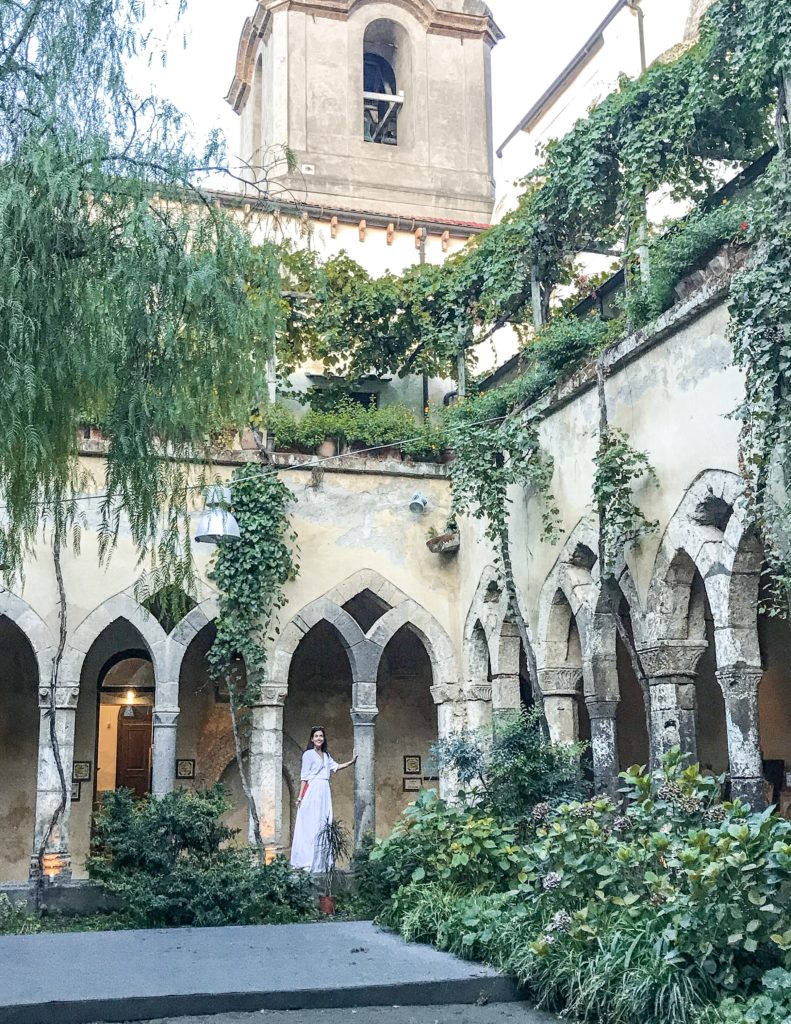 Capri
Book a Day Trip to Capri from either Sorrento, Positano or Amalfi via Ferry. Upon arrival, your best bet is to start with Anacapri, which is all the way at the top of the mountain and then make your way down to Capri and end your day on a boat tour of the grottos! You can get to Anacapri via Bus or Taxi but if you take the Bus, make sure to buy enough one way tickets to take you to Anacapri then Capri then Marina Grande hence min. 3 tickets).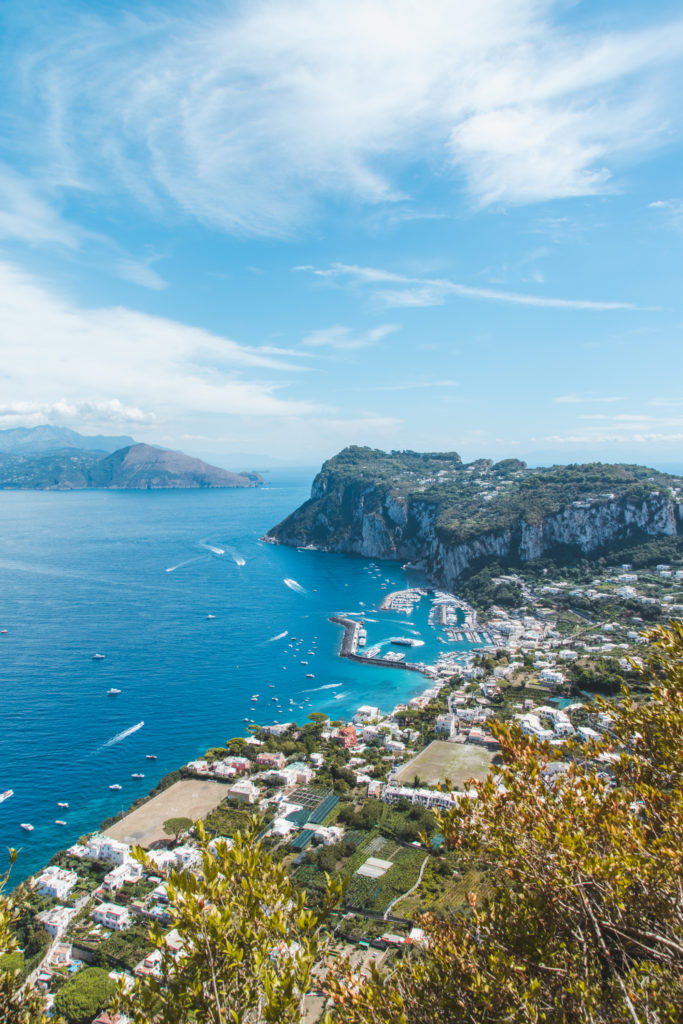 Capri Palace (Stay and Eat)
Capri Palace's entrance is quite the sight with a walkway through a tunnel with the views of the side of the hotel's pool next to you. Its designs are of ancient Neapolitan palace in the 1700s. 5 stars – jewel in anapari. The hotel has three restaurants, L'Olivo, an elegant and refined restaurant with Two Michelin stars, Il Riccio an exclusive One Michelin star restaurant and beach club. It is the perfect honeymoon hotel.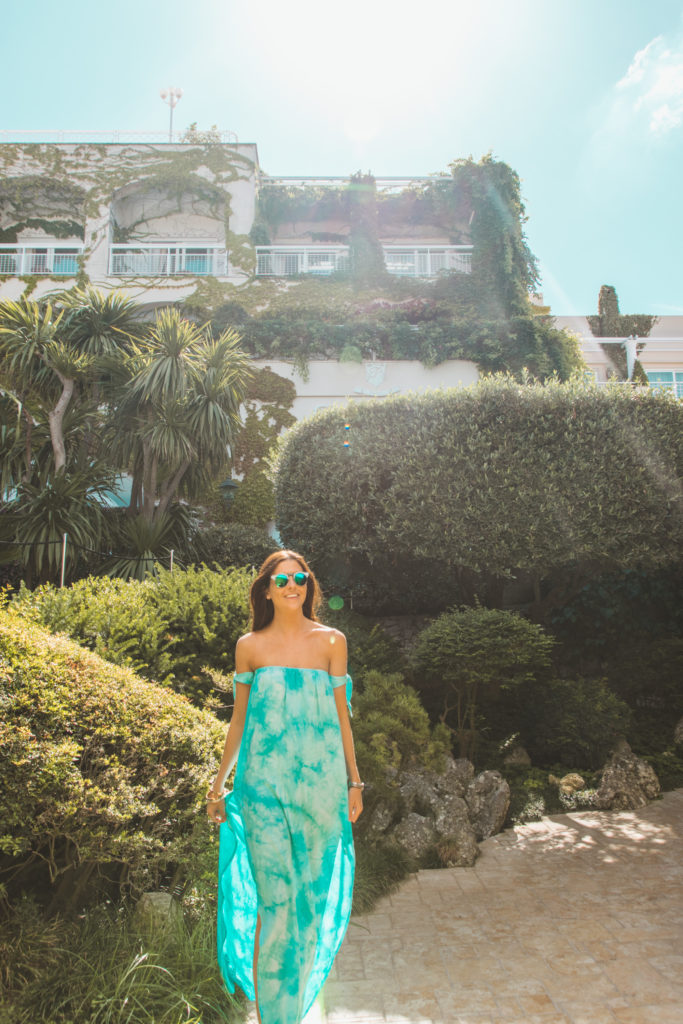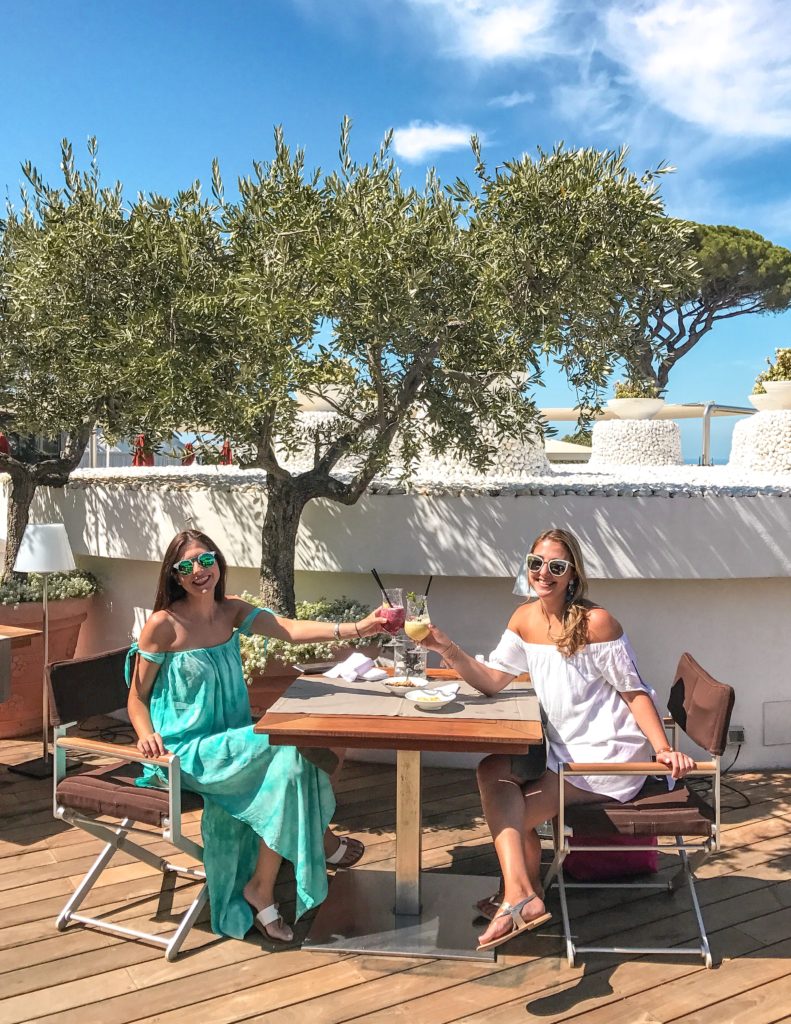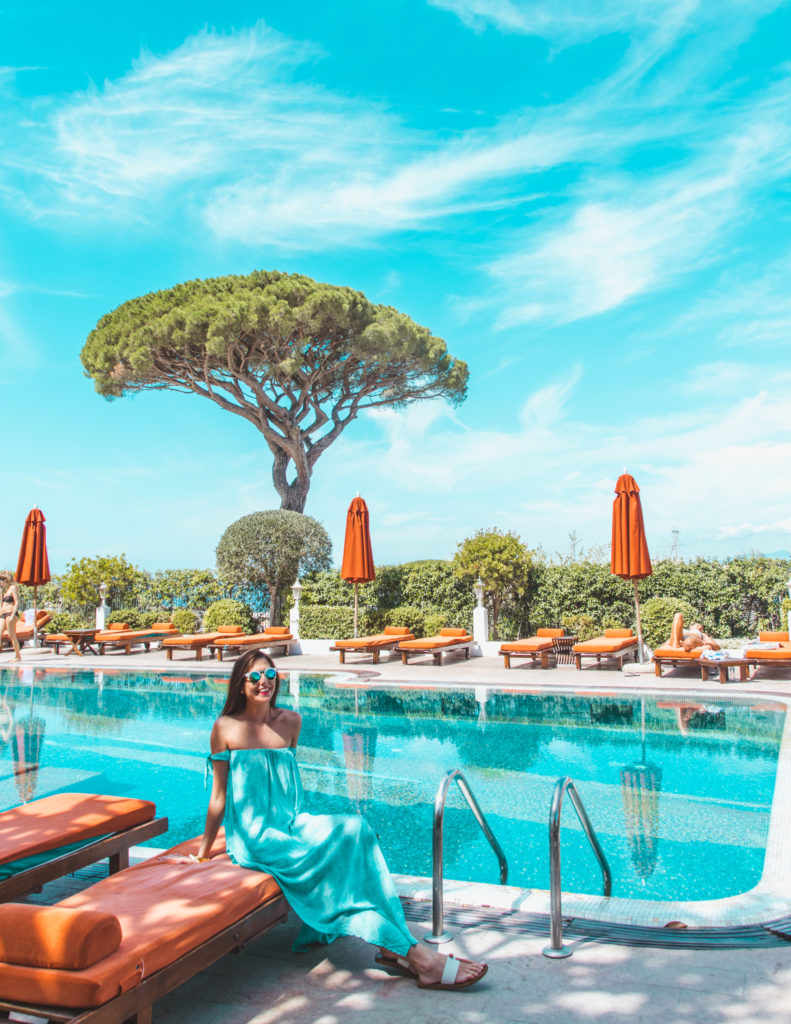 Villa San Michele (Eat & Play)
Villa San Michele is known as one of Italy's most prestigious and beautiful gardens as it is Axel Muthe's private residence now converted into a museum perched high up along the cliffs of Anacapri overlooking the gorgeous bays of Capri with Mount Vesuvius in the distance. There are many works of art found in the villa as well as marble statues beautifully placed throughout the gardens. The villa has a restaurant – Café Casa Oliv which is open during the summer months and you can sip on prosecco and have bites of delicious antipasti or desserts.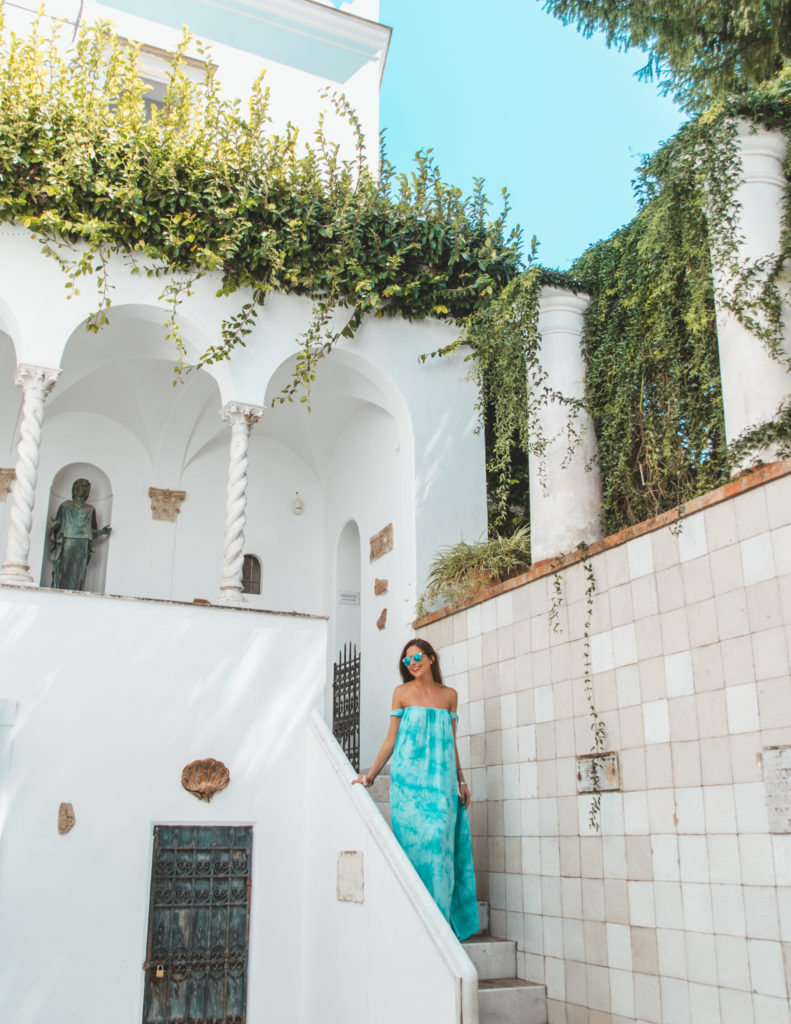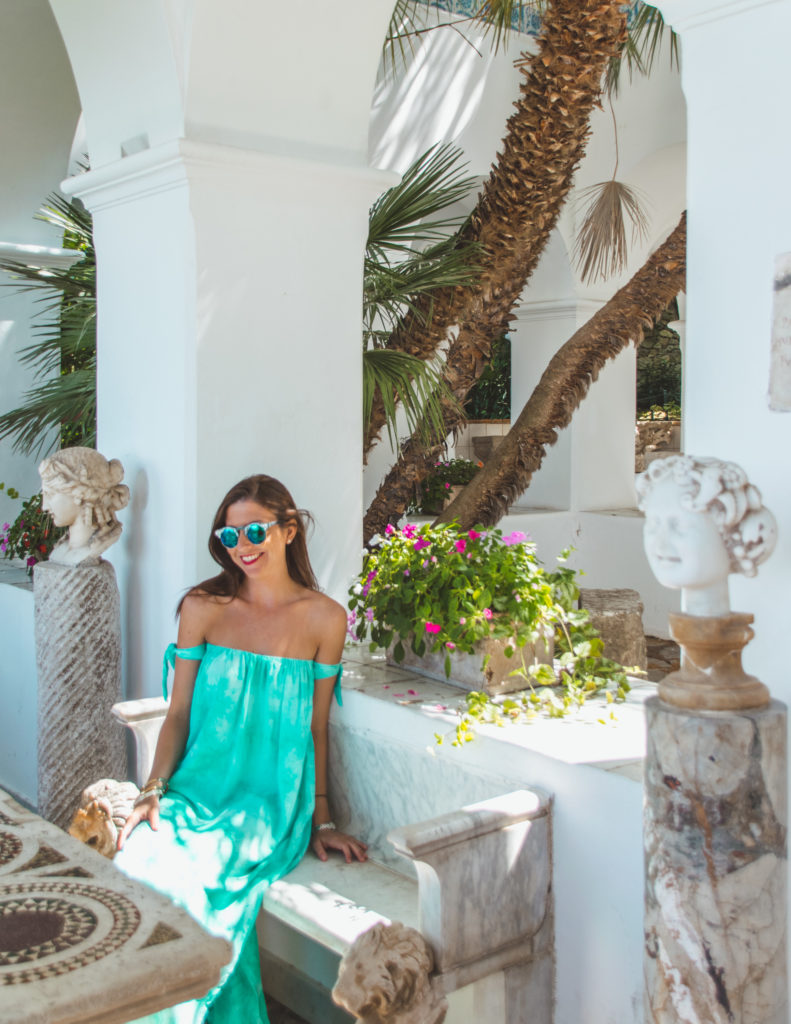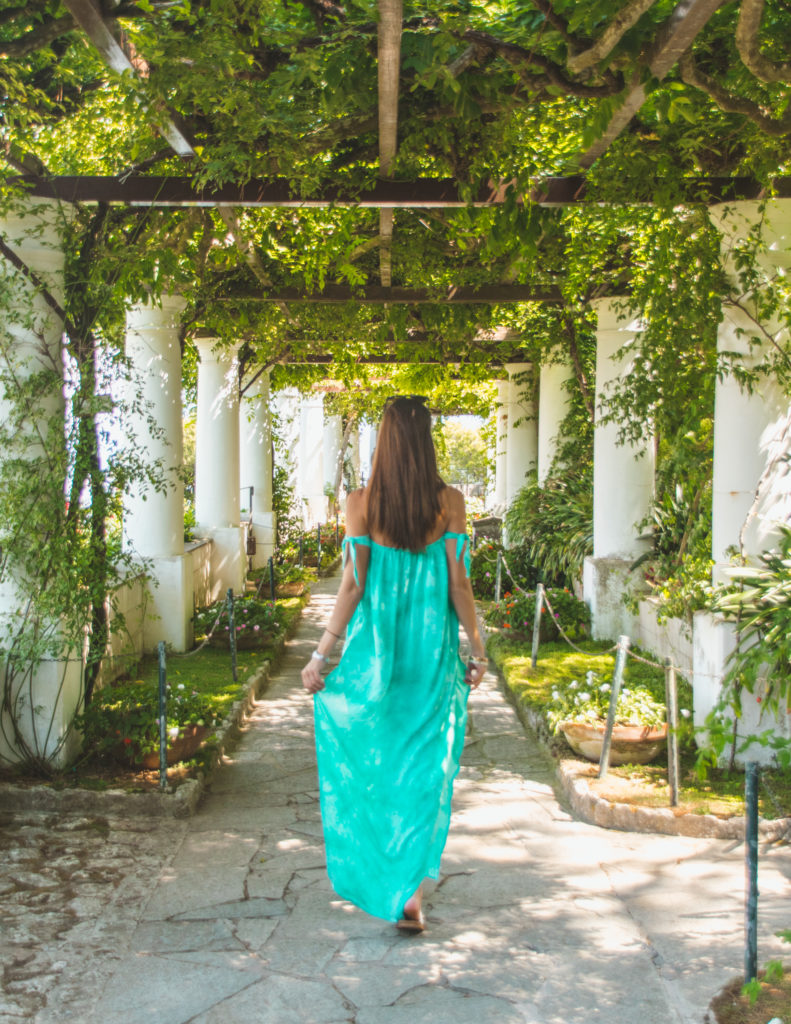 Le Camerelle (Eat)
Le Camerelle is a chic restaurant located along the pedestrian walkway in Capri with views of the internal landscape and outskirts of Capri. The trendy and well-designed booths along the Cliffside are fun to dine in or sip on afternoon cocktails while you await your evening boat tour.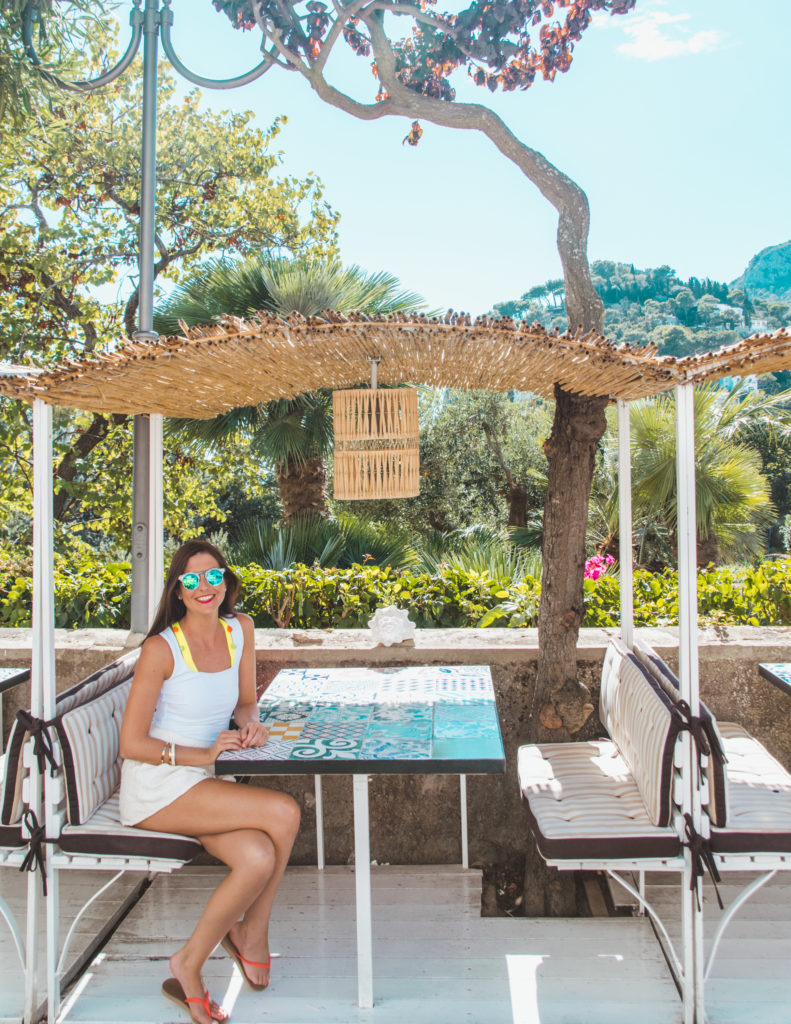 Capri Grotto Tour (Play)
Book a boat tour with Capri Boat Service which you can board at Marina Grande and spend a few hours visiting the Grottos of Capri. The Gozzo styled boats (traditional wooden boat) are quite touristy but my top choice to get that authentic Italian boat tour experience. You start your tour by visiting the Grottos along the coast until you make your way to the magnificent I Faraglioni timeless rock formations and Blue Grotto. You can also safely swim in the sea's deep blue waters.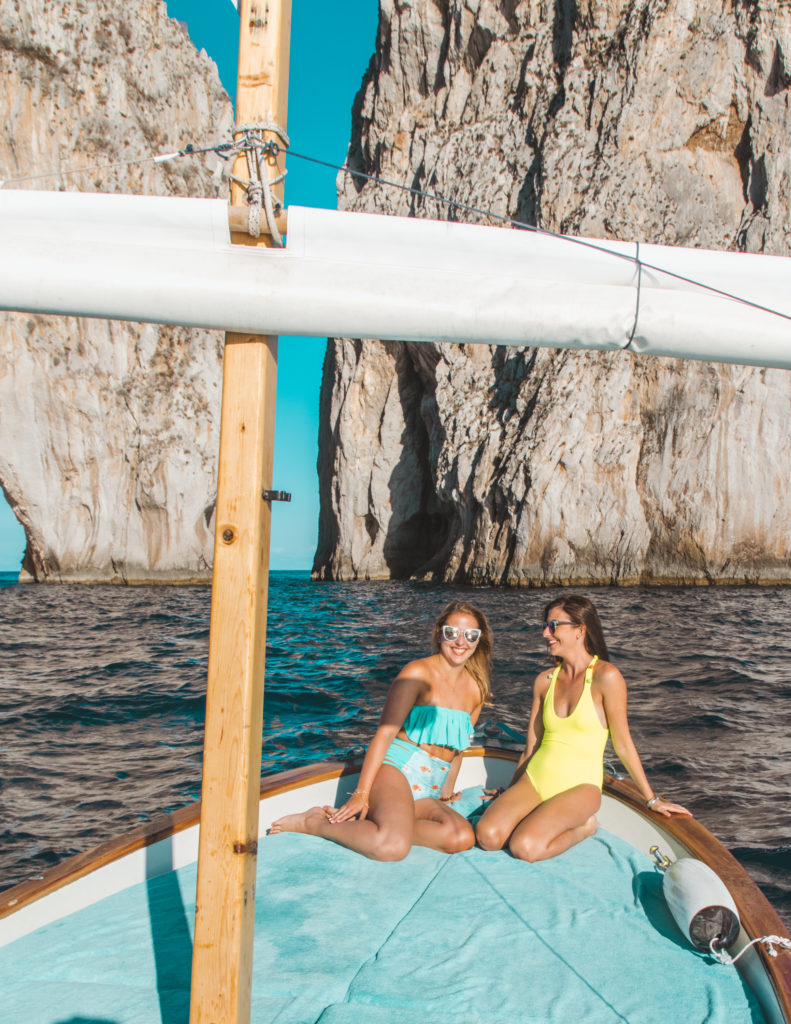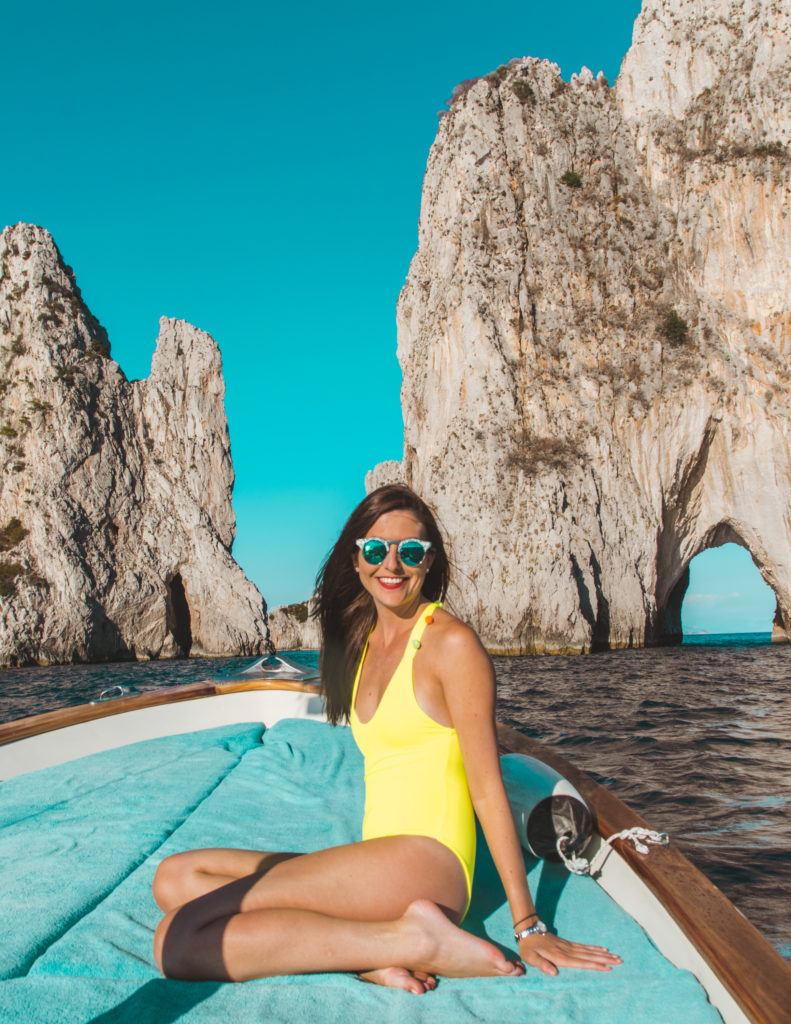 Shopping around town of Anacapri and Capri (Play)
There is quite a bit of shopping to be done on the isle of Capri from the ceramic, beautifully designed sandals and local goodies in Anacapri to luxury designers spread across the town of Capri. There quite a range of choices but be prepared for their luxury prices. Ideal items to purchase are capri sandals, local paintings and ceramic pieces.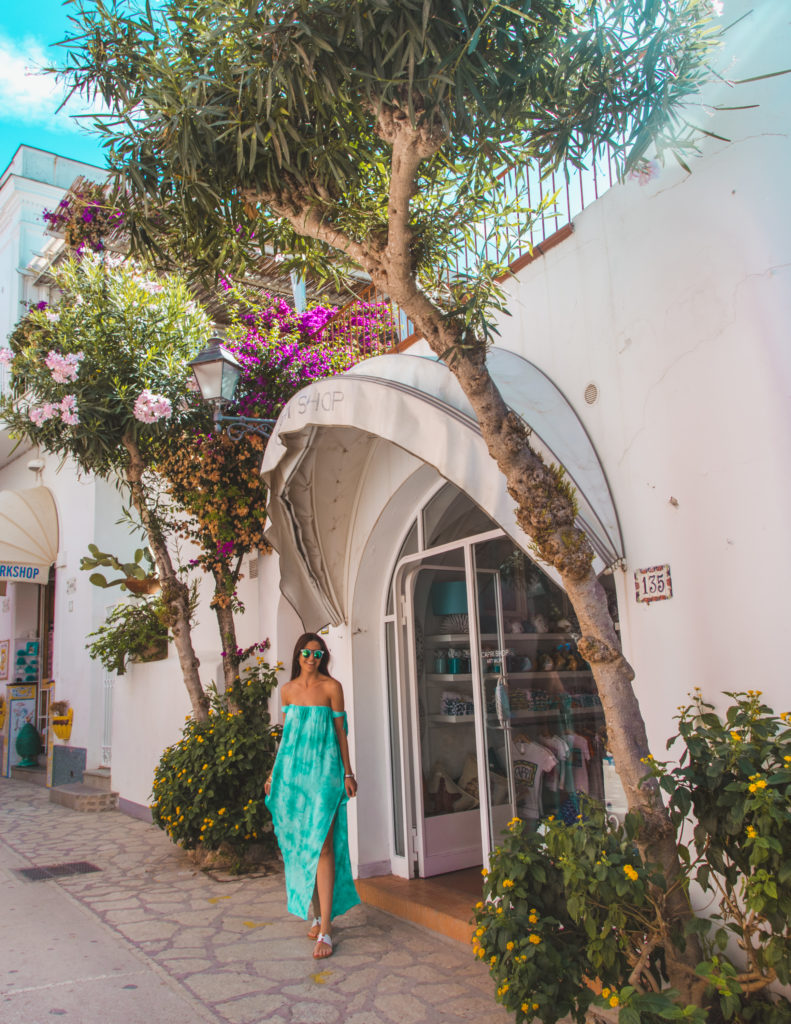 Positano
Le Sirenuse (Stay & Eat)
Le Sirenuse is one of the most iconic travel blogging hotels along the Amalfi coast and perfect spot to enjoy the view of the pastel laid town. It was once a private residence and converted into one of italy's luxury hotels in the 1950's. The hotel has 4 restaurants including:
La Sponda (Michelin Star). We sneak in for breakfast and this was the most amazing breakfast we had ever seen and devoured.
Champagne Bar & Grill – dozens upon dozens of oysters
Pool Bar & Restaurant – covered in charming lemon trees with a gorgeous view of Positano
Franco's Bar – stylish alfresco terrace great for sunset cocktails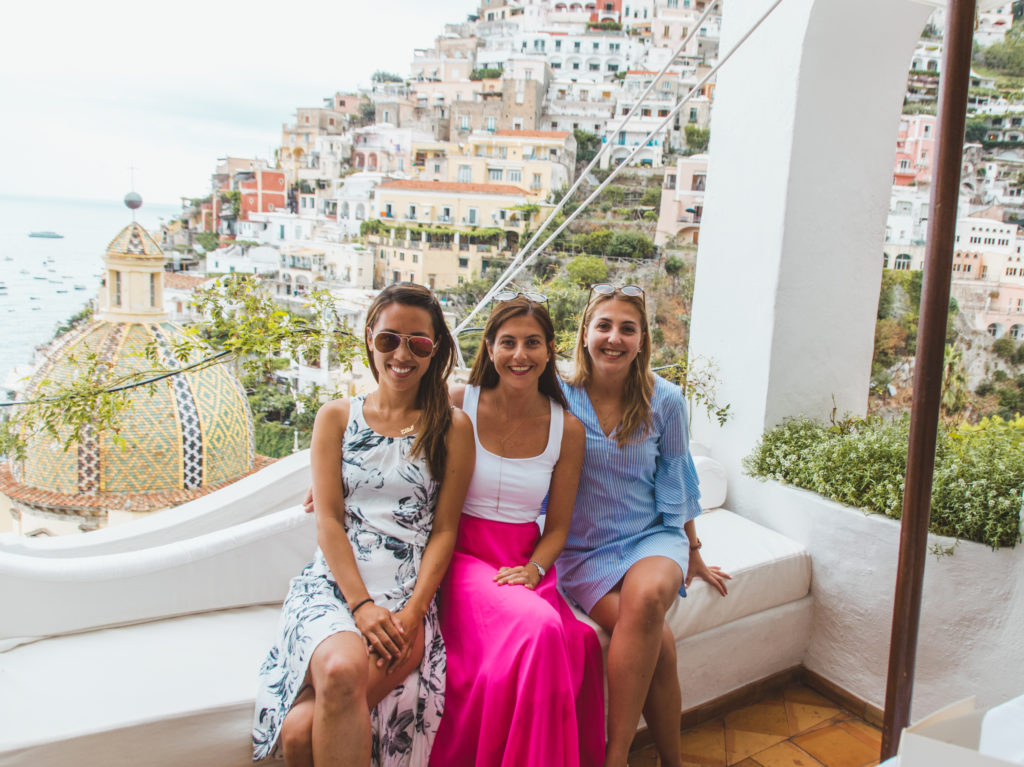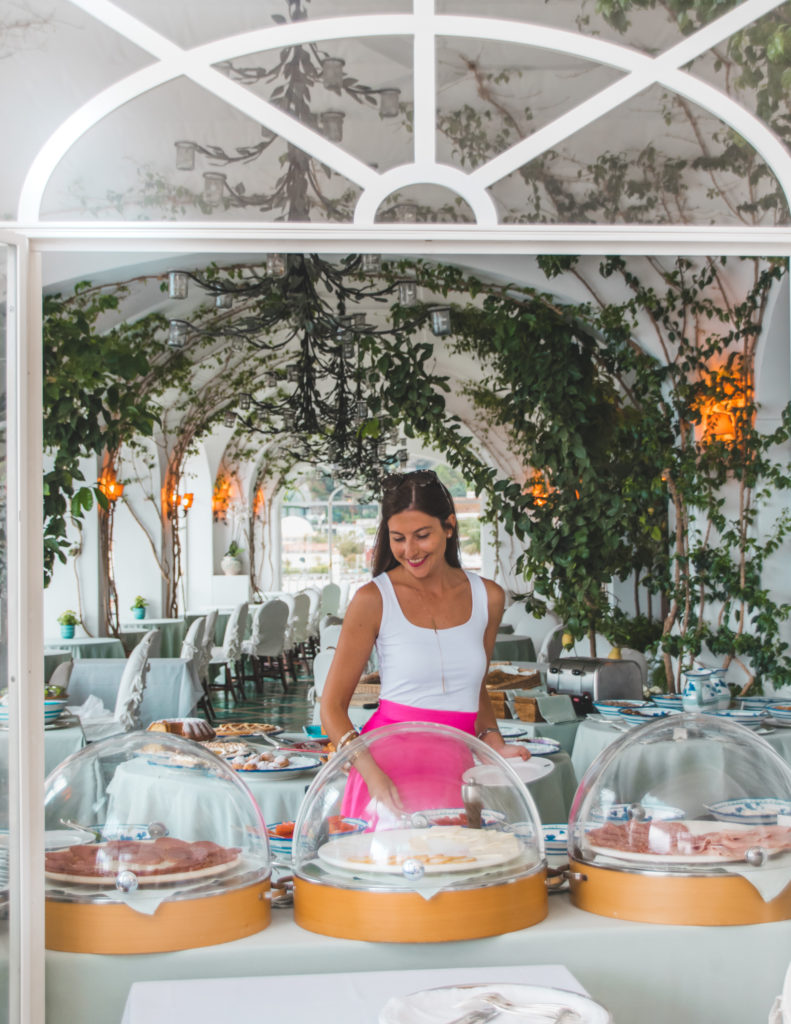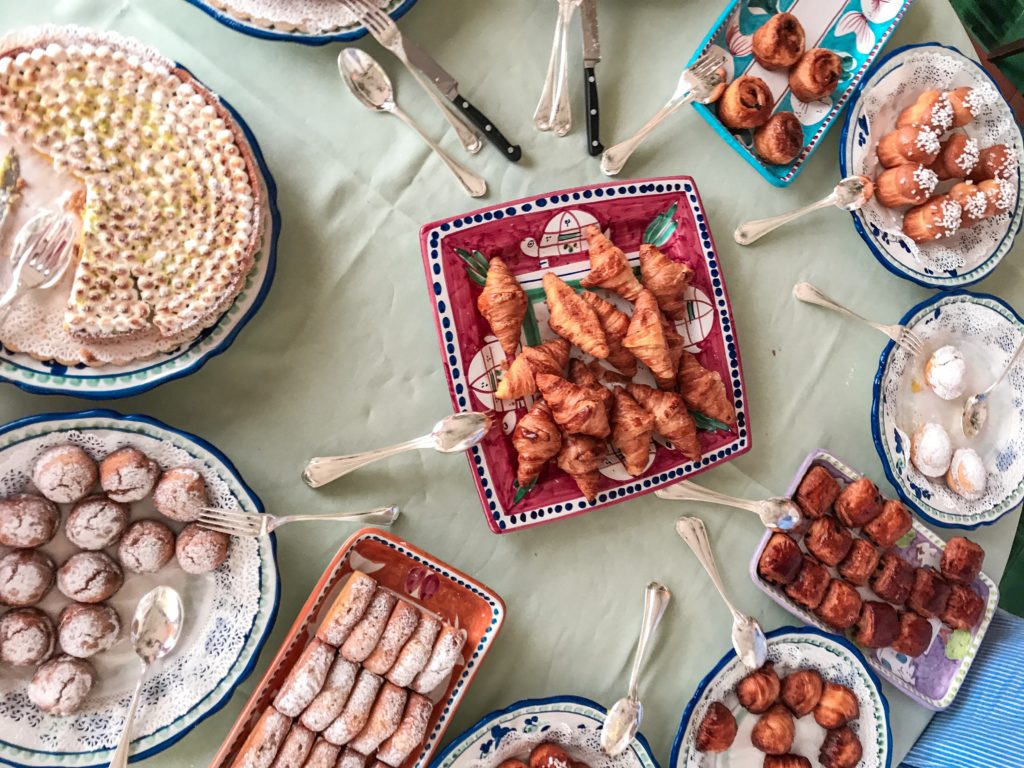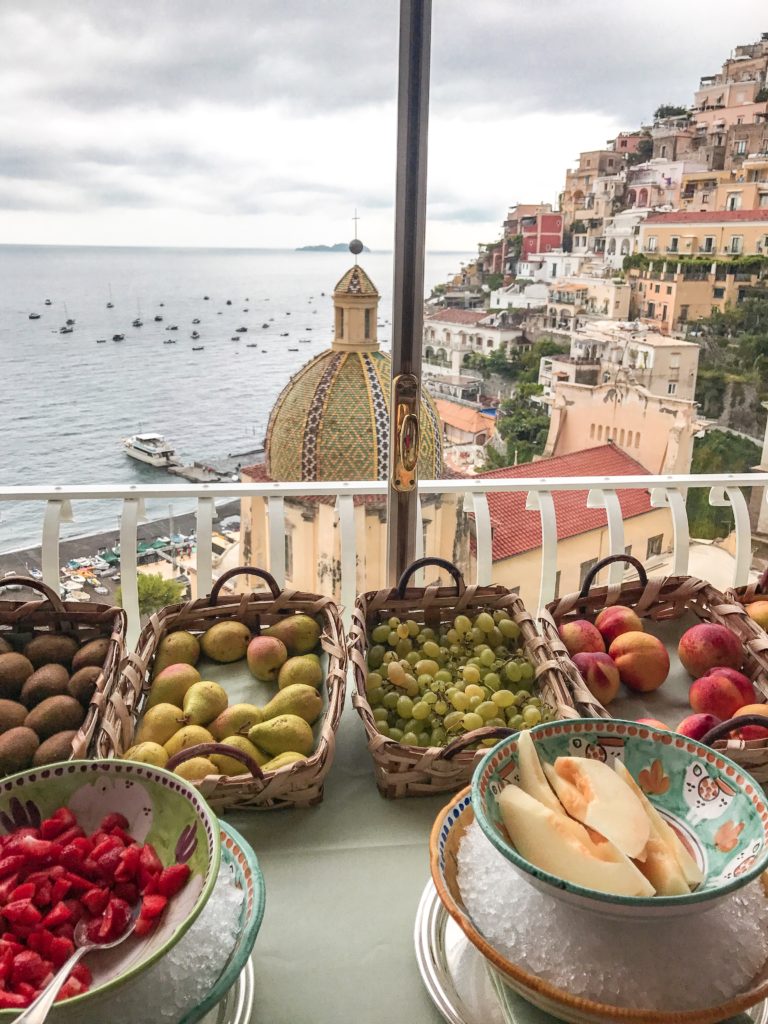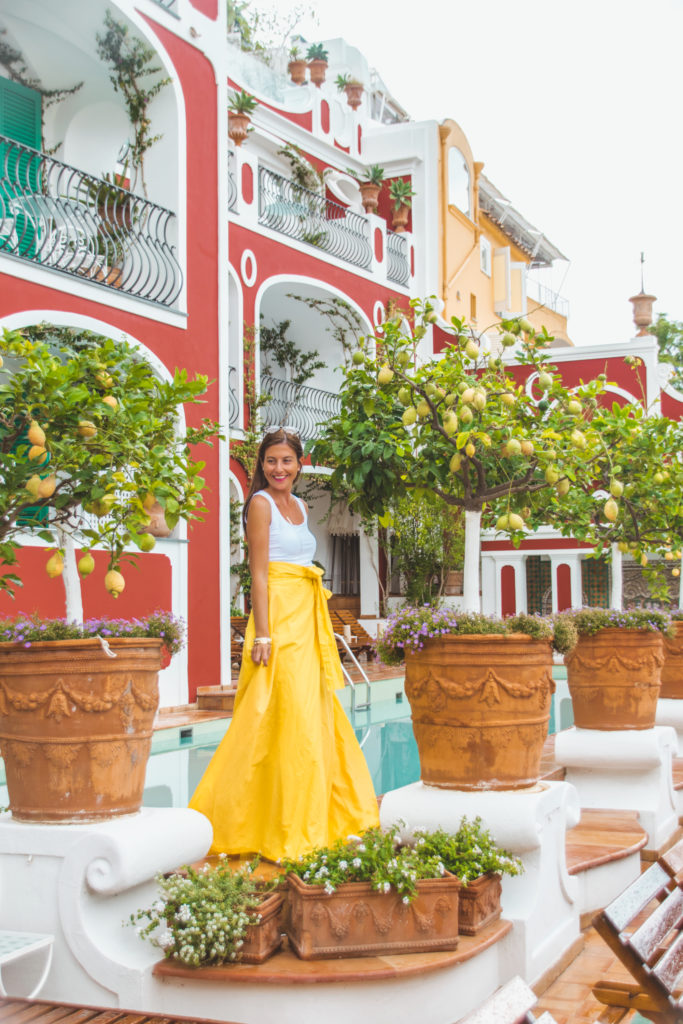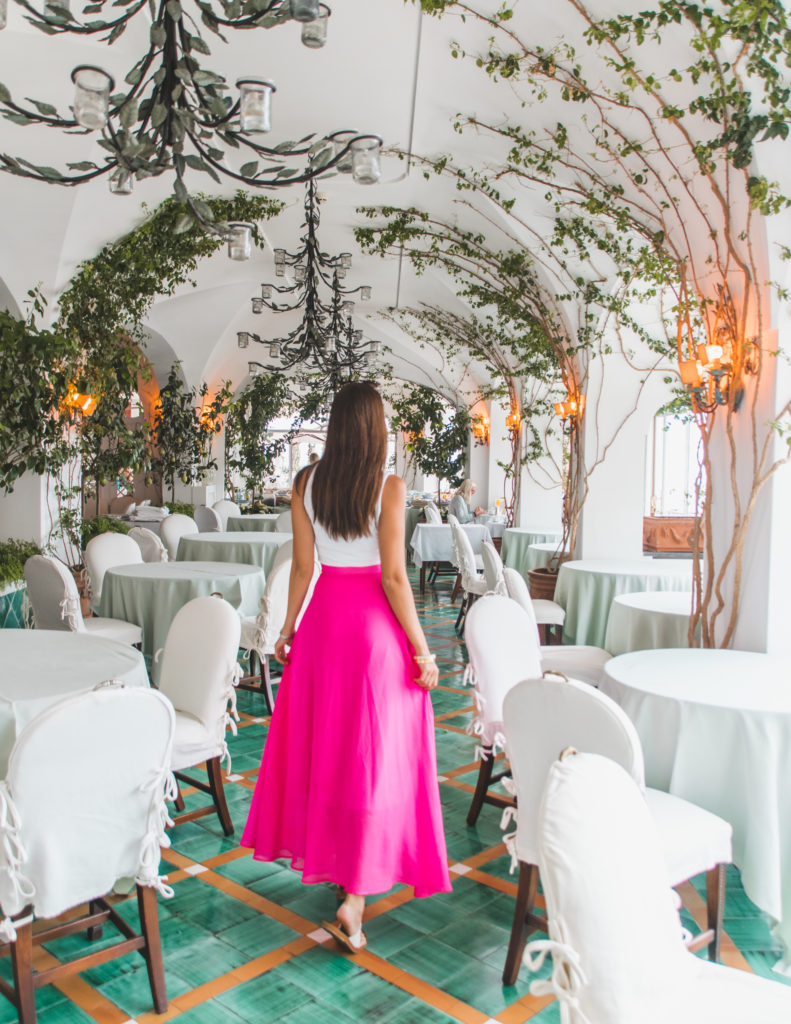 Hotel Palazzo Murat (Stay & Eat)
A hidden gem in the heart of Positano covered in gorgeous pink and purple bougainvillea is Hotel Palazzo Murat. It is one of the most romantic hotels which once belonged to the King of Naples as his 18th century Palace. This boutique hotel is dream with excellent service and gorgeous patio where you can even come in for a few drinks to take a break in a gorgeous oasis away from the bustling town around.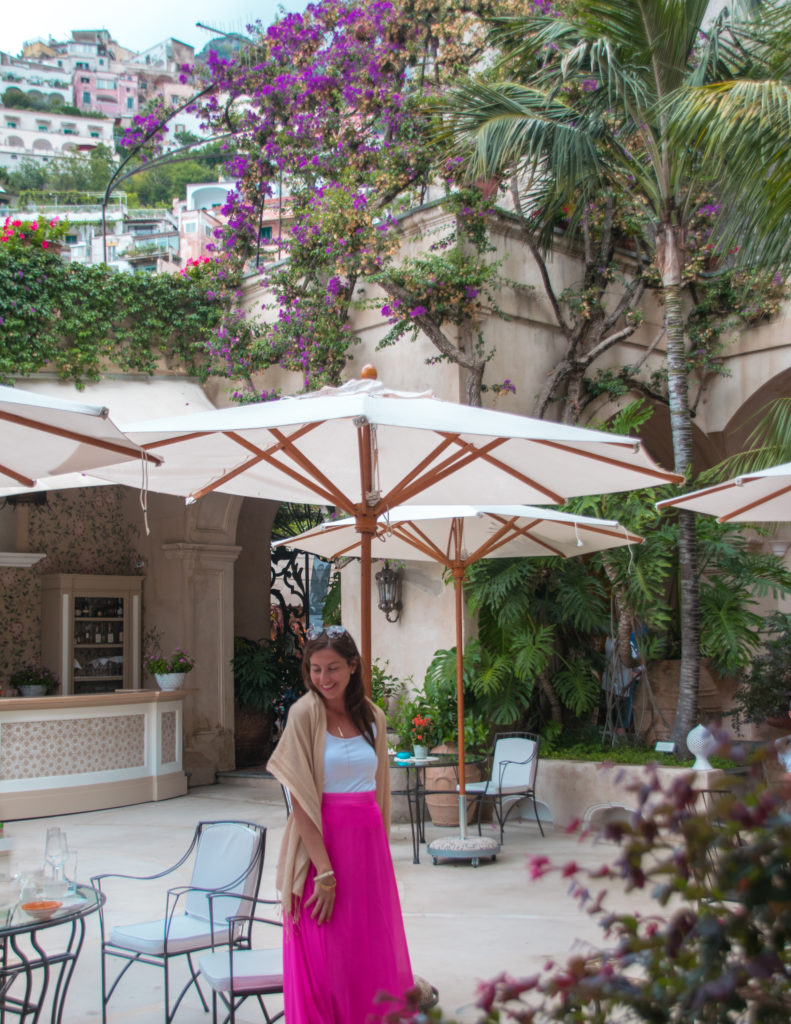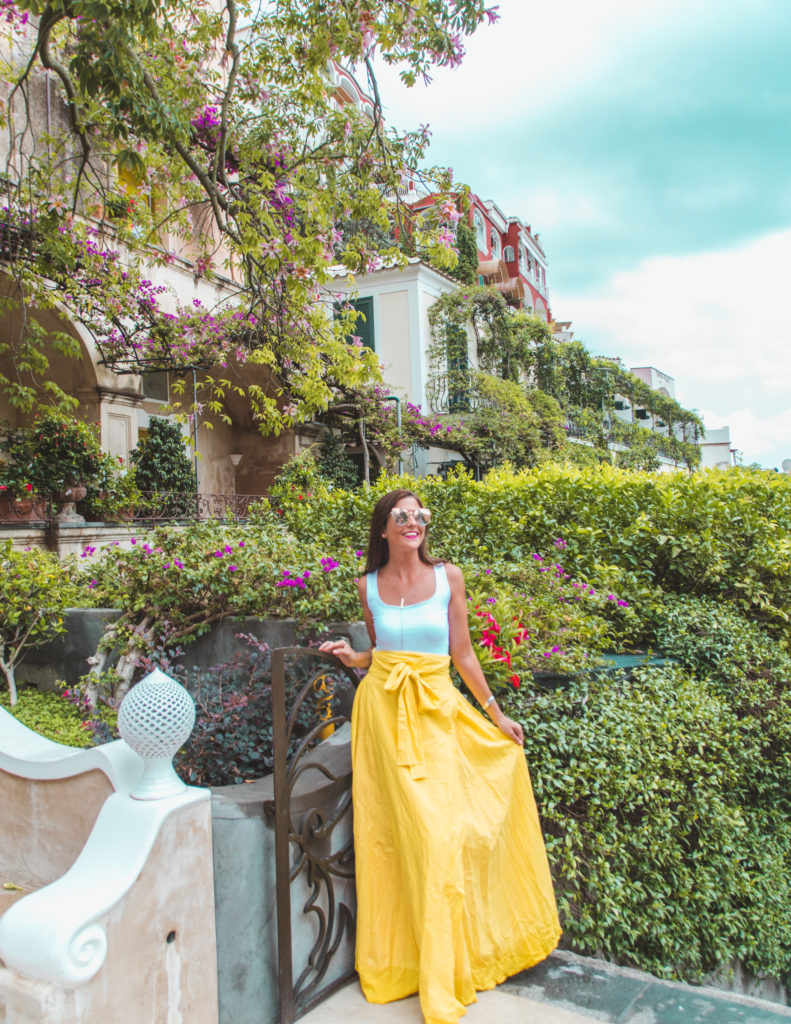 Villa Tre Ville (Stay & Eat)
Just outside the centre of Positano, you will come across a stunning villa on its own along the water known as Villa Tre Ville. It has breathtaking views of Positano and many different areas to explore from its lush gardens to its own private seaside sundeck and magnificent restaurants and terraces. The Moroccan styled bar and terrace looked under the hotel was a dream with beautiful white couches with intricate and colorful designs entranced my eyes.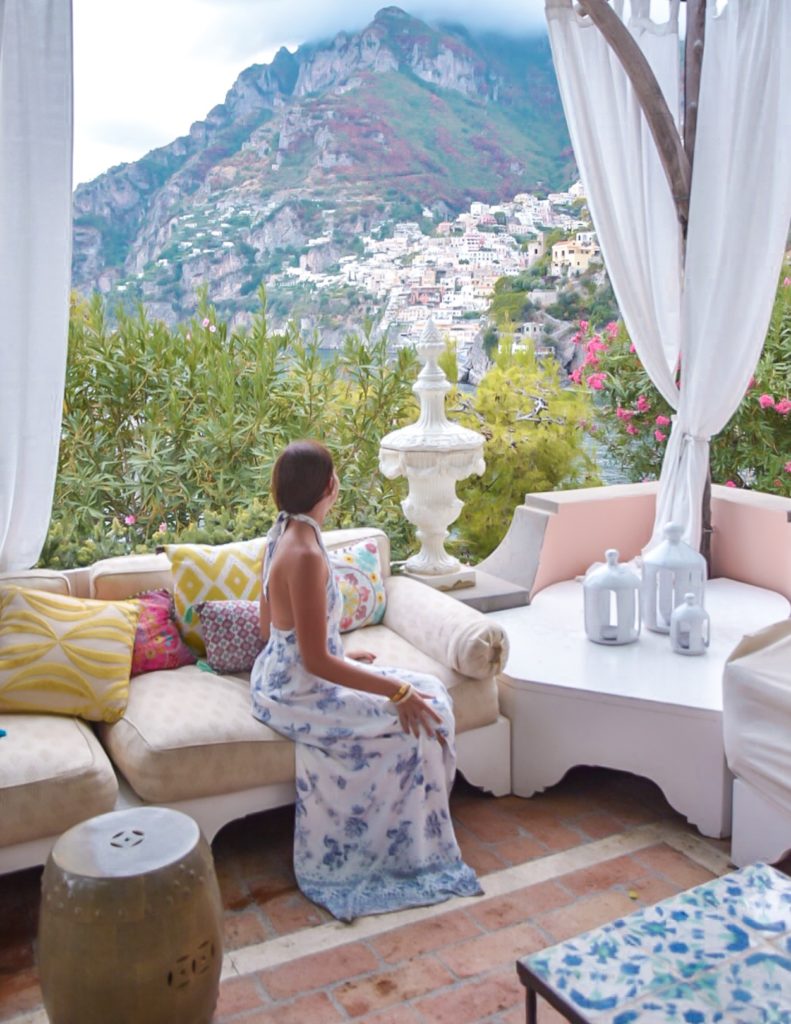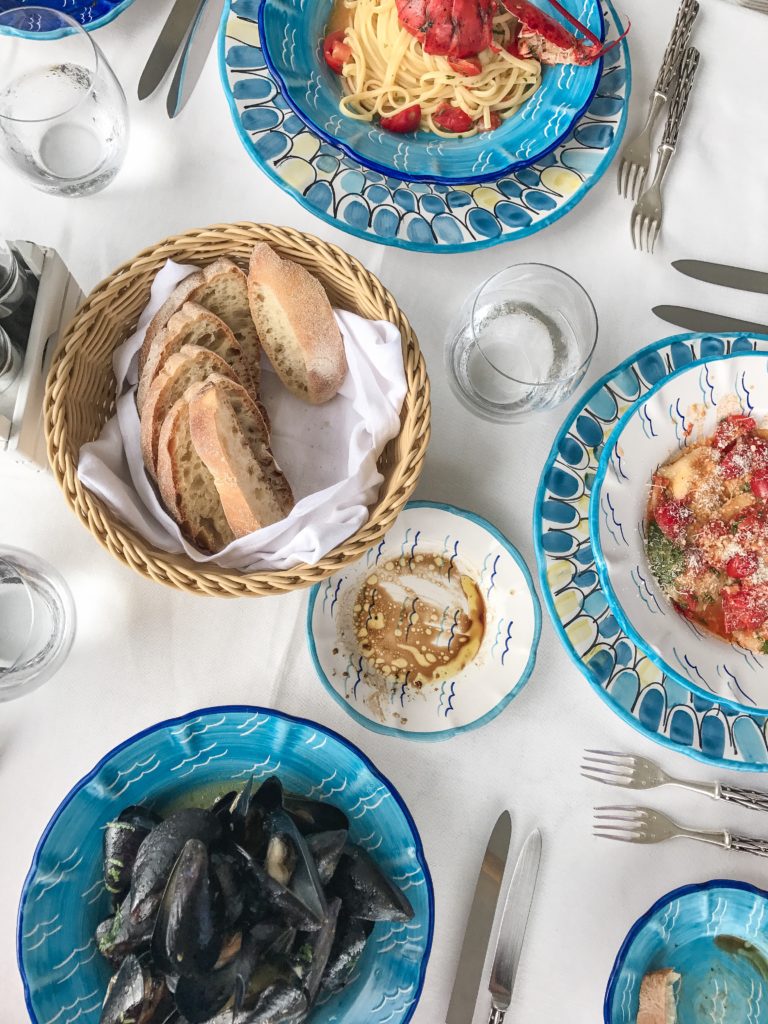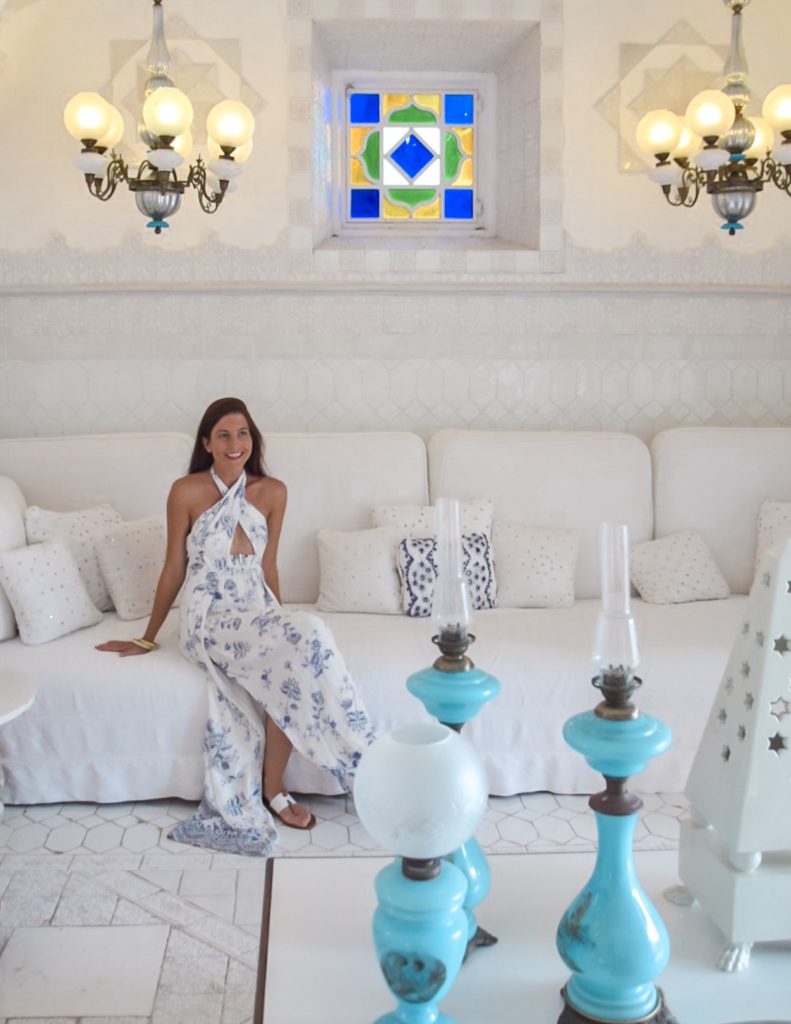 Shopping in Positano
The best yet probably the most pricey shopping can be found in Positano with its dozens upon dozens of ceramic stores and fashion boutiques. A popular one is the outdoot Palo Borracho Open Air Booutique which is tons of fun to try on clothes in an relaxed atmosphere. Also pick up your cermics from – my favourite store from the trip!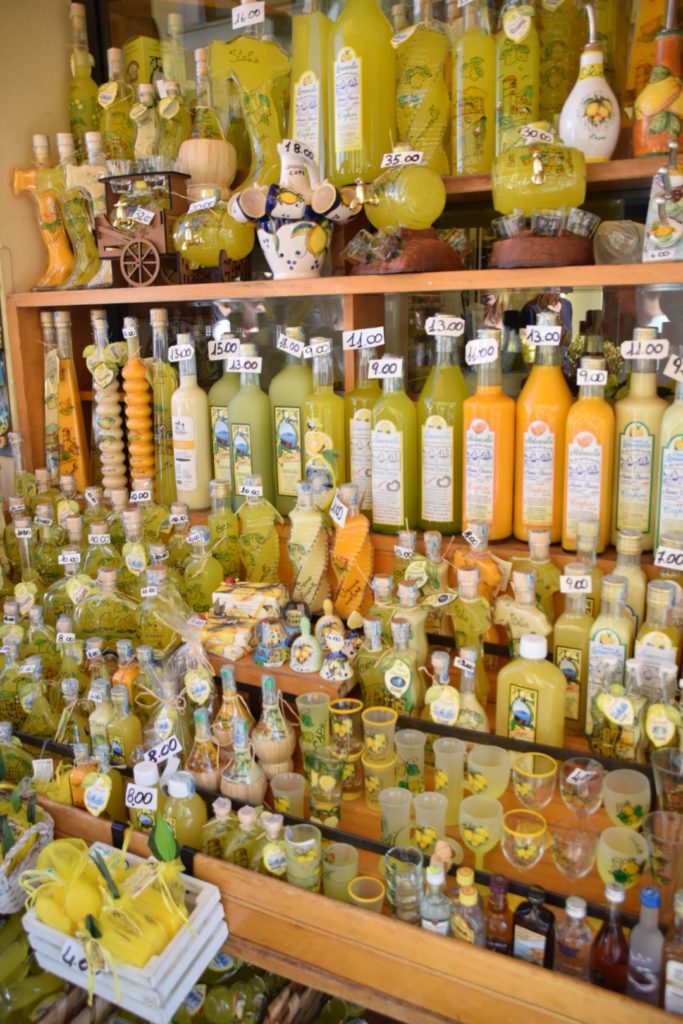 Nightclub – Music on the rocks
We unfortunately did not make it out to Music on the Rocks but it is a must do on a future trip as you can party the night away in a club built into the rocks along the infamous Positano beach.
Praiano
 Casa Frederica (Stay)
Casa Frederica is a 2 bedroom fully equipped townhouse nestled high up on the Praiano coastline with specular views of the Tyrrhenian Sea and Amalfi Coastline from Positano to Capri. It is a very spacious villa with two terraces perfect for your morning coffee overlooking the gorgeous landscape. The villa is quite a number of steps away from the centre of town and the beach but if you take the local bus or Taxi  to Stop 24 then it is a breeze. for It is also an ideal and affordable location to stay making day trips to nearby towns along the coast yet perfect for a relaxing vacation.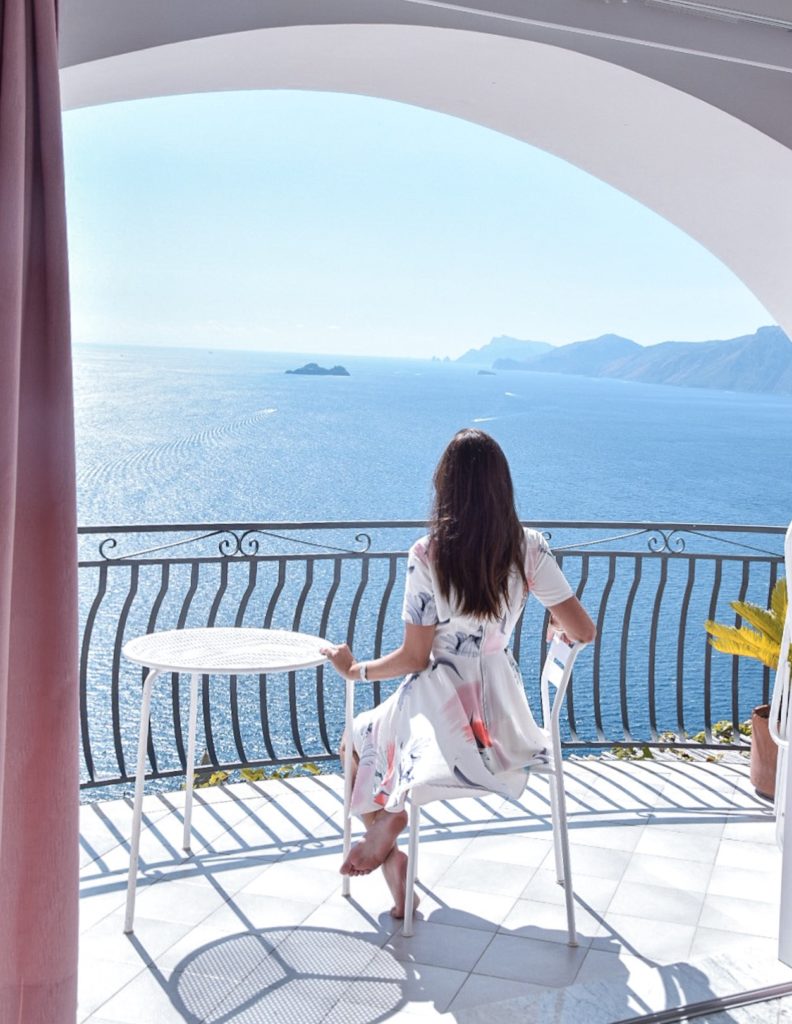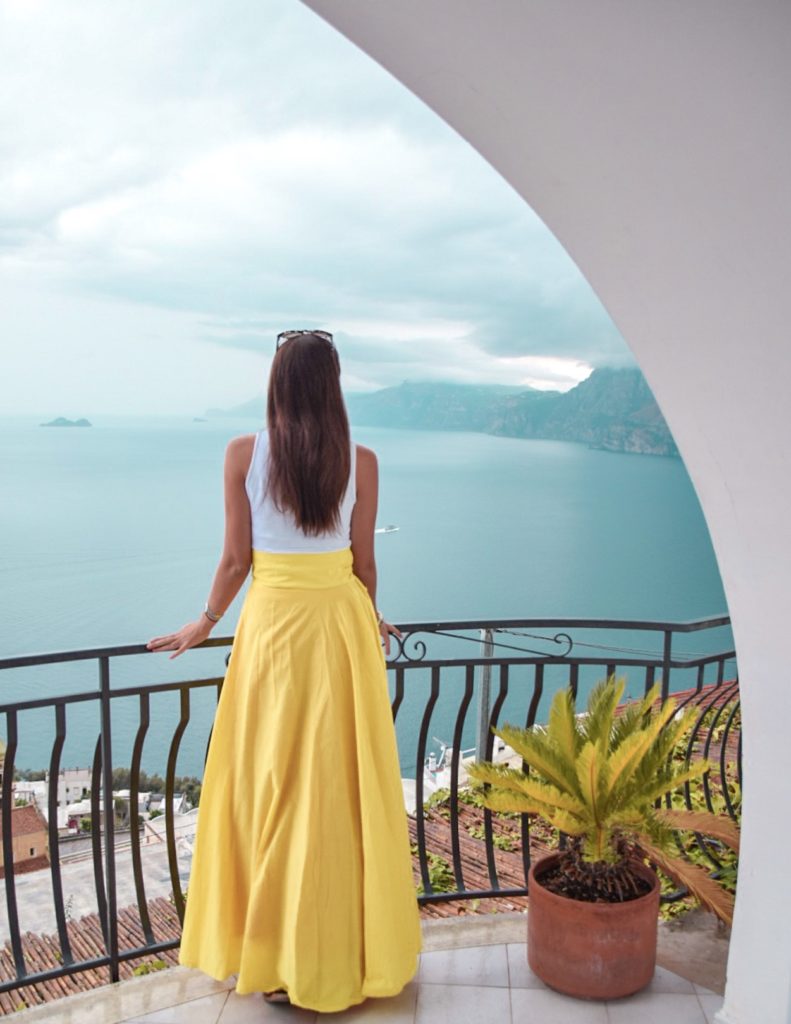 OneFire Beach Club (Eat & Play)
The best day beach club can be found in praiano at One Fire with its brightly orange umbrellas and chic lounge chairs with views of Positano and Capri. At 4:30pm every day is the infamous Melon Time – a 10 minute dance and hype session followed by a speedy melon slicing session to give every guest a piece of moutwatering watermelon. The 300 steps down from the Main street aren't too bad but your 300 steps walk back up the cliff side is a journey to be prepared for.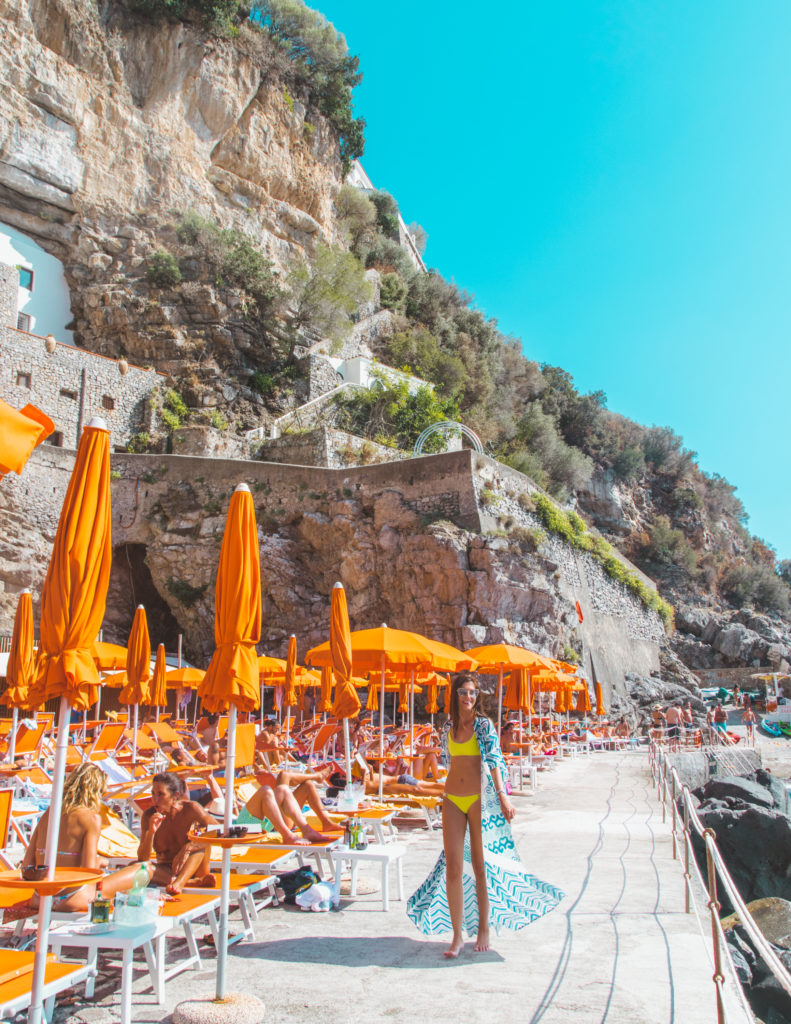 Café Mirante
One your way back from One Fire Beach Club, stop off at Café Mirante for an apertivo and admire the gorgeous sun setting along the Amalfi Coast. The chill and welcoming atmosphere of the café invites you to taste its great selection of fabulous and refreshing hand crafted cocktails and fruit shakes as well as the perfect Italian coffee and sorbets.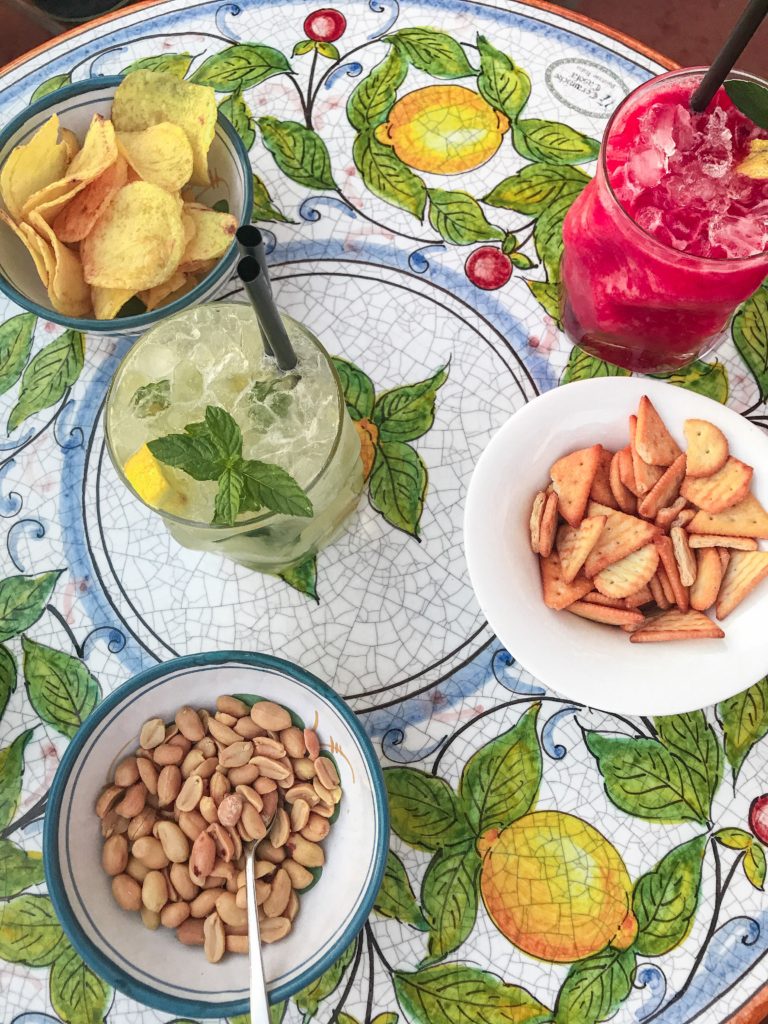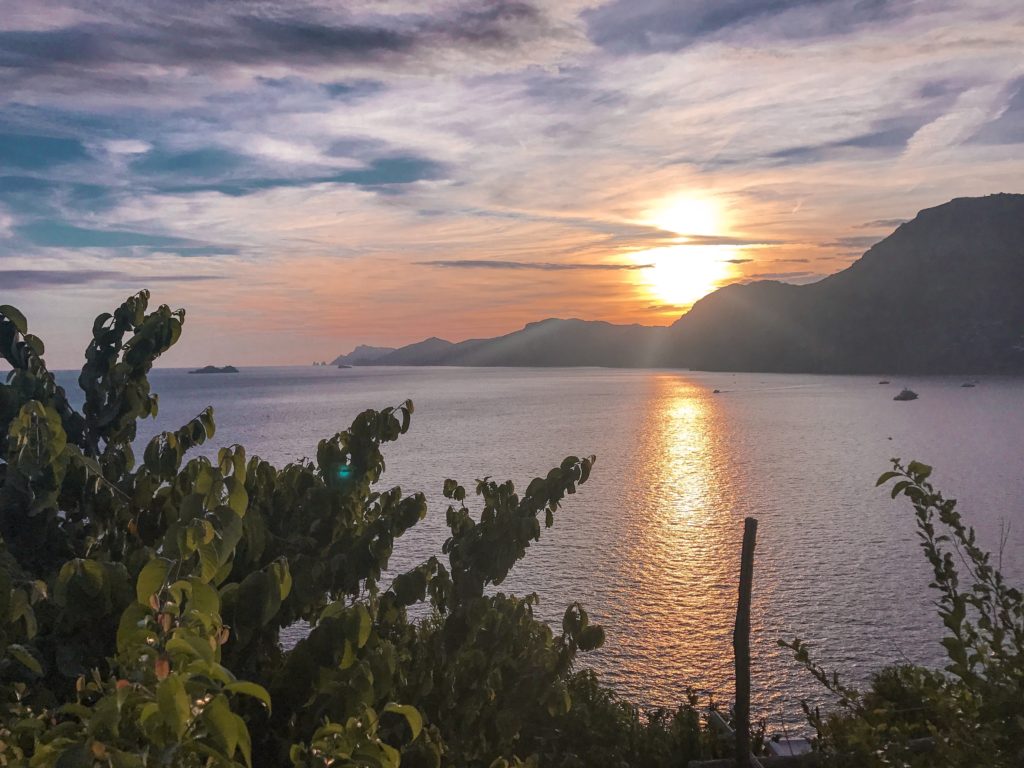 La Moressa (Eat)
First off, the views at sunset from La Moressa are out of this world. It does not directly get the view of the sun going down but the colours of the sky make the perfect setting for this al fresco styled resrurant with a amazing terrace. A trendy and popular restaurant offers a casual and fun atmosphere with flavoursome wood-fired pizzas and a menu of locally infused dishes. Great service, great food and wine and  a lovely spot to dine and experience the beauty of Praiano.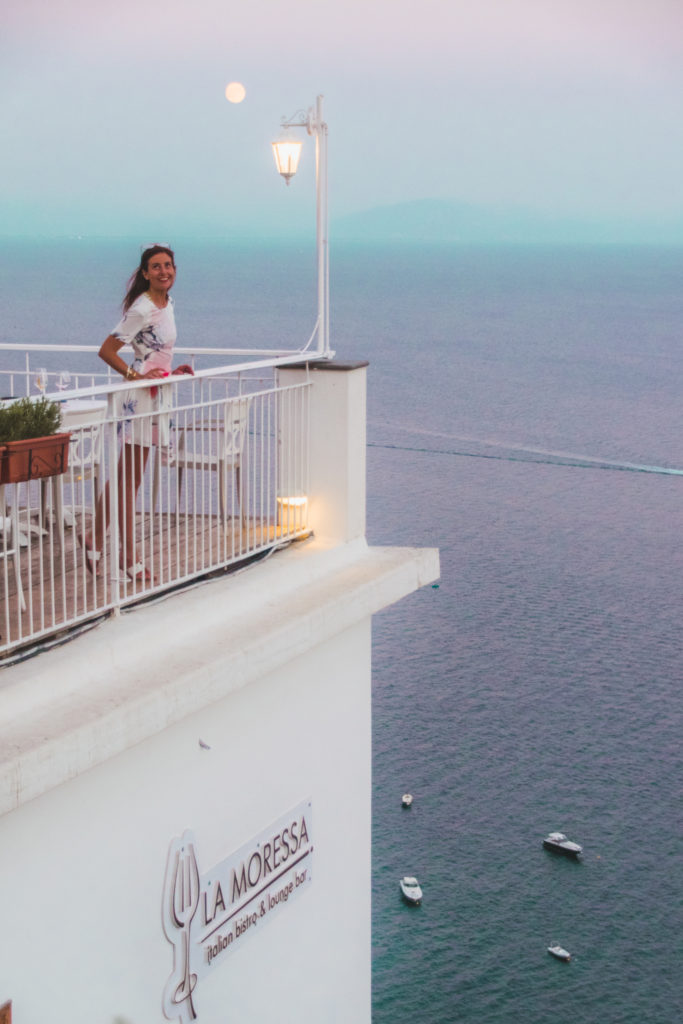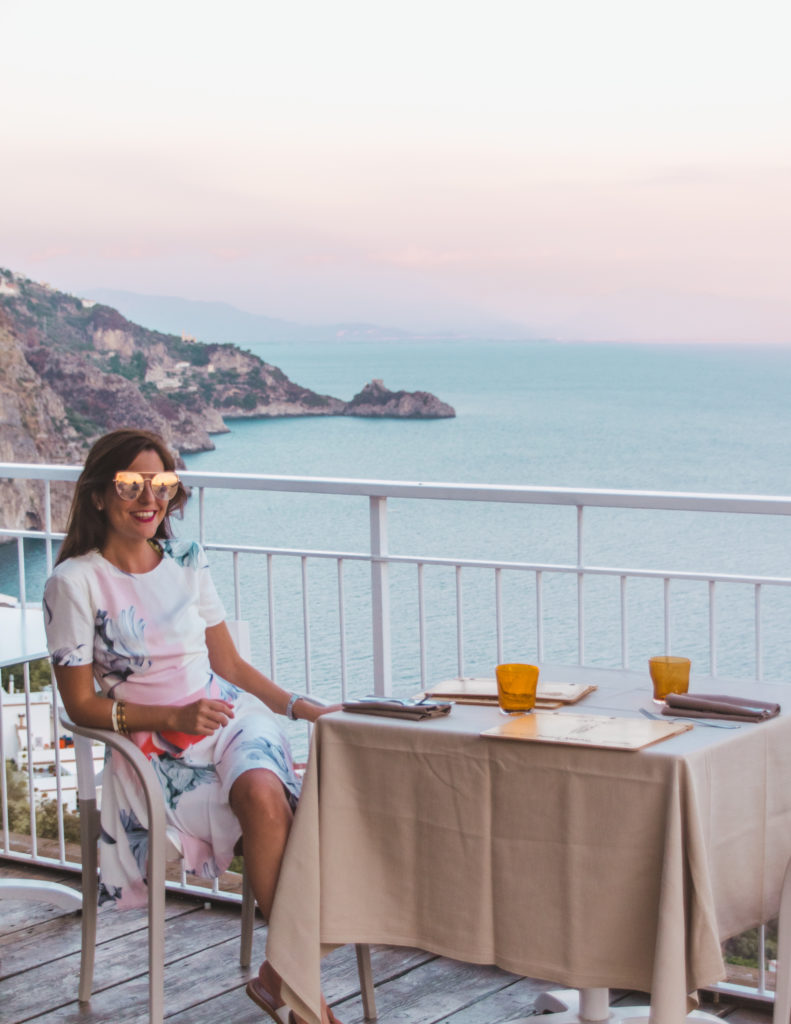 Ravello
Villa Cimbrone (Stay & Play)
Villa Cimbrone is a hidden treasure, dating back from the 11th Century and situated right along the tranquil yet dramatic cliffs of Ravello far away from the hustle and bustle of the Amalfi coastal towns like Positano and Capri. Villa Cimbrone is an exquisite hotel but sightseers may also explore its gardens for a small fee but it is well worth the visit. The picture-perfect manicured gardens is a place where you can truly unwind and appreciate the beauty all around. The gardens lead you from the Temple of Bacchus; the Seat of Mercury to the Terrazza dell'Infinito (Terrace of Infinity) that is lined by a series of marble statues, where you can view the gorgeous deep blue waters of the Mediterranean Sea below.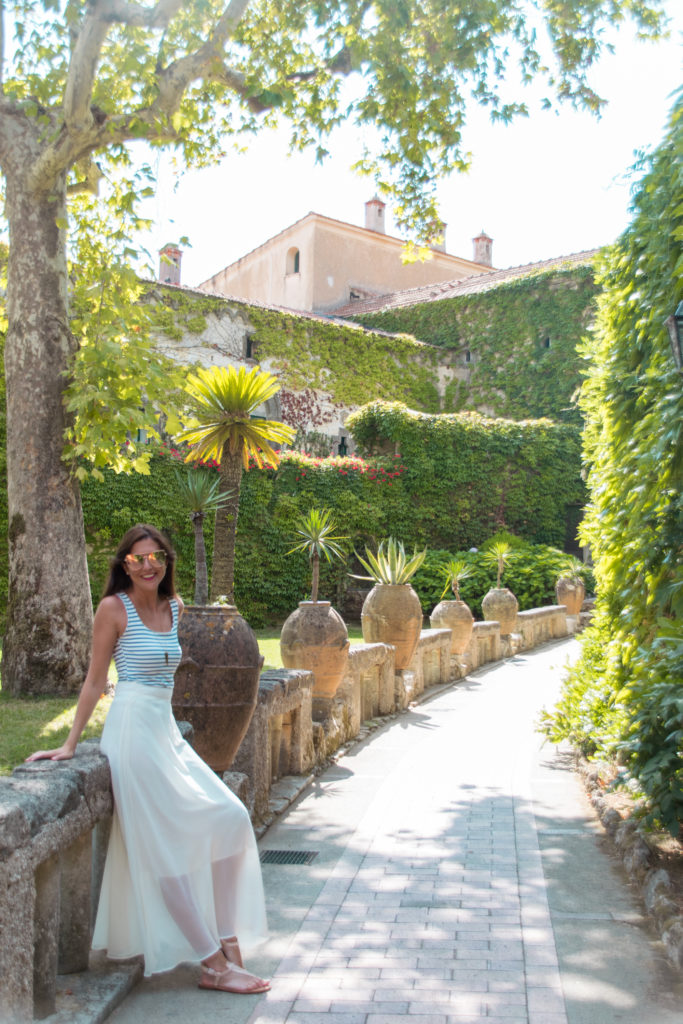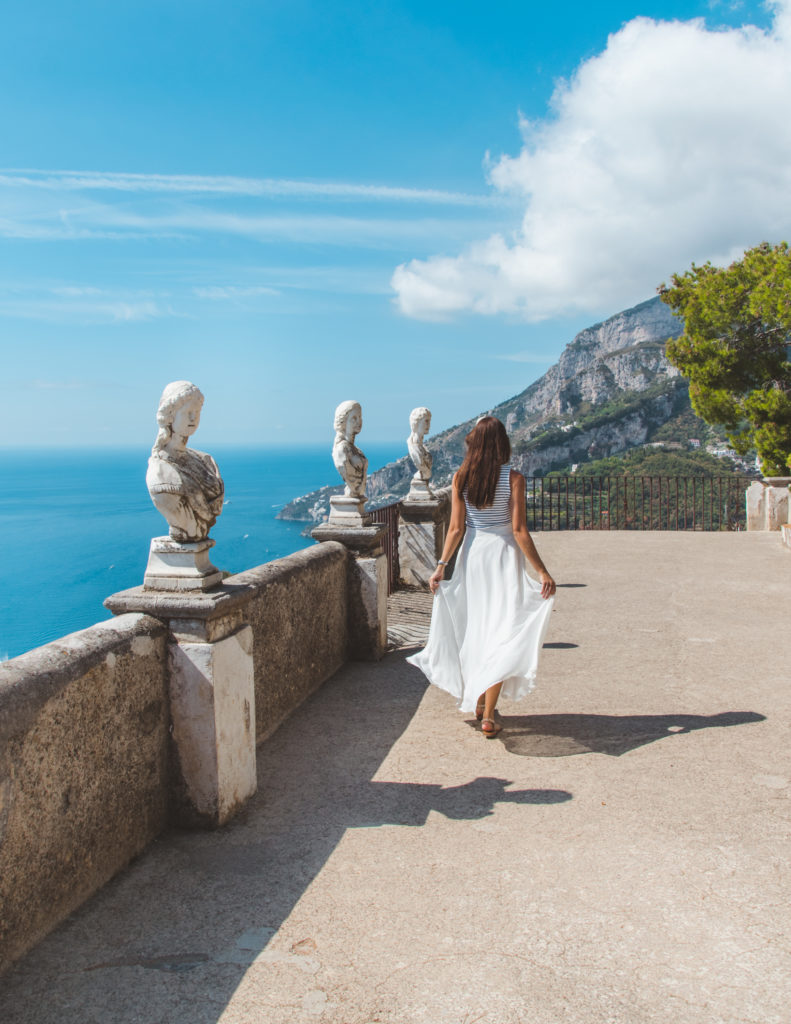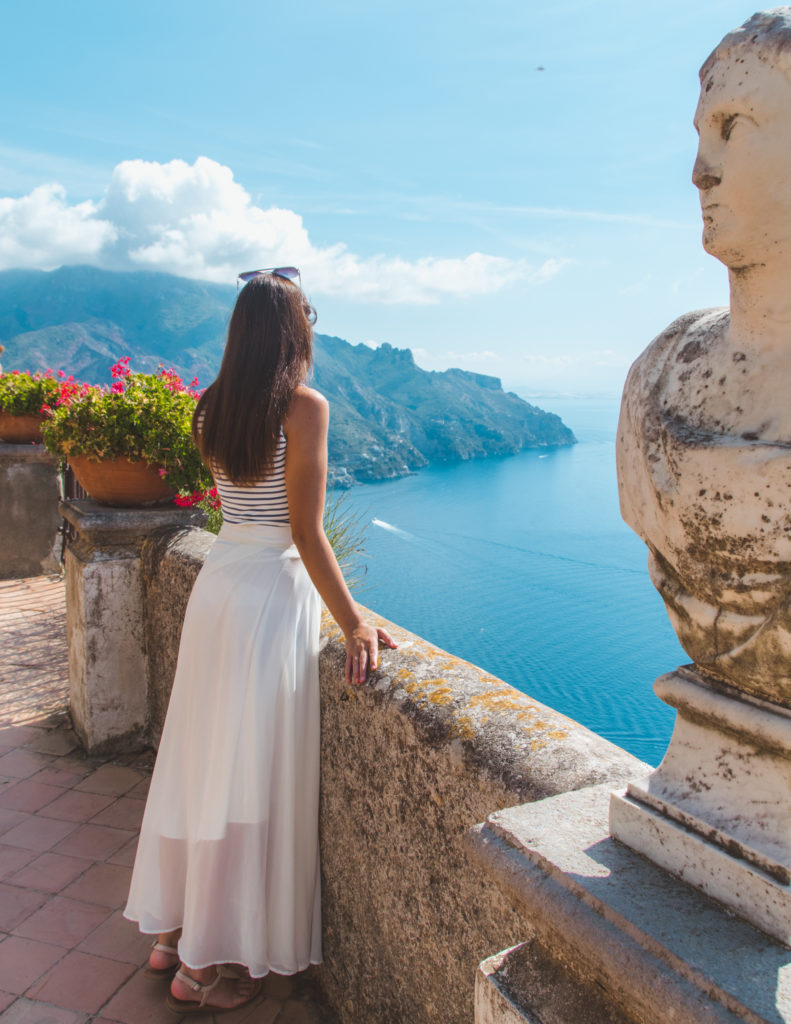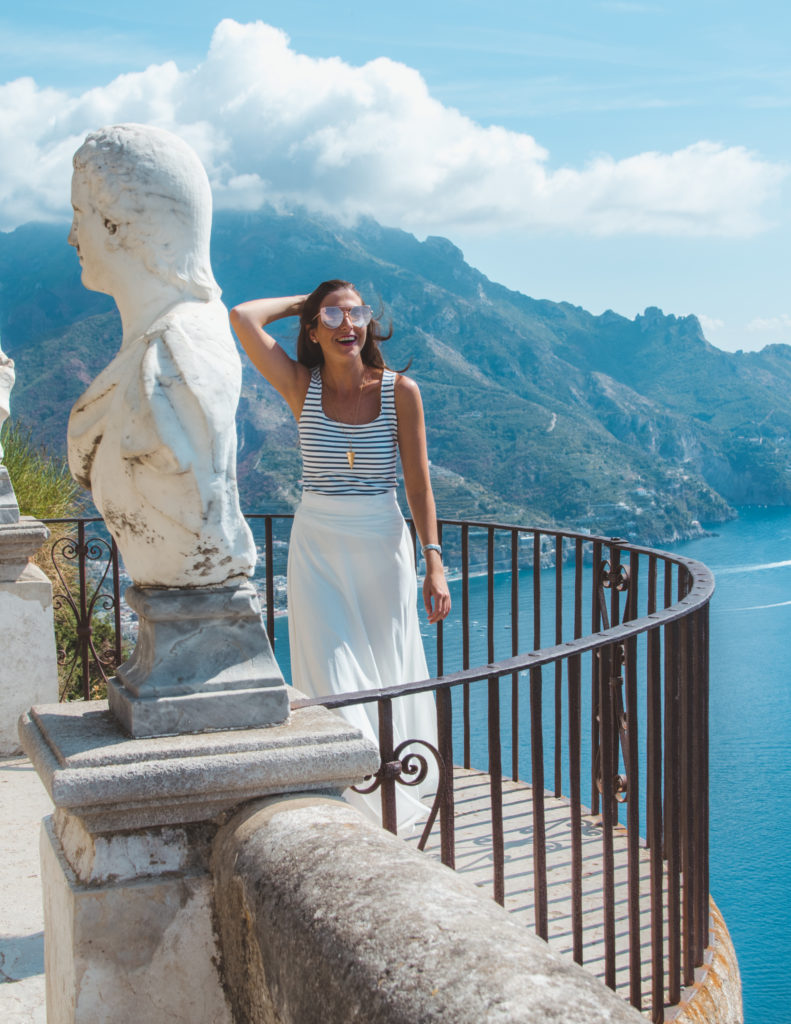 Palazzo Avino (Stay & Eat)
Palazzo Avino's luxurious and stunningly blush coloured 5 star hotel is perched high up in a private sanctuary on a hill presenting guests with a spectacular view of the dazzling Amalfi coastline. Its 12th century architectural beauty offers 33 rooms that are bordered by beautifully landscaped gardens and are furnished and a stunning terrace and pool overlooking the Mediterranean Sea. You can dine at Rossellinis, its 1 Michelin star restaurant, or sipping on fresh and delicious Italian smoothies and cocktails from its Terrazza Belvedere. Palazzo Avino is the hotel to be at in Ravello especially for guests desiring a little bit of rest and relaxation with a side of luxury.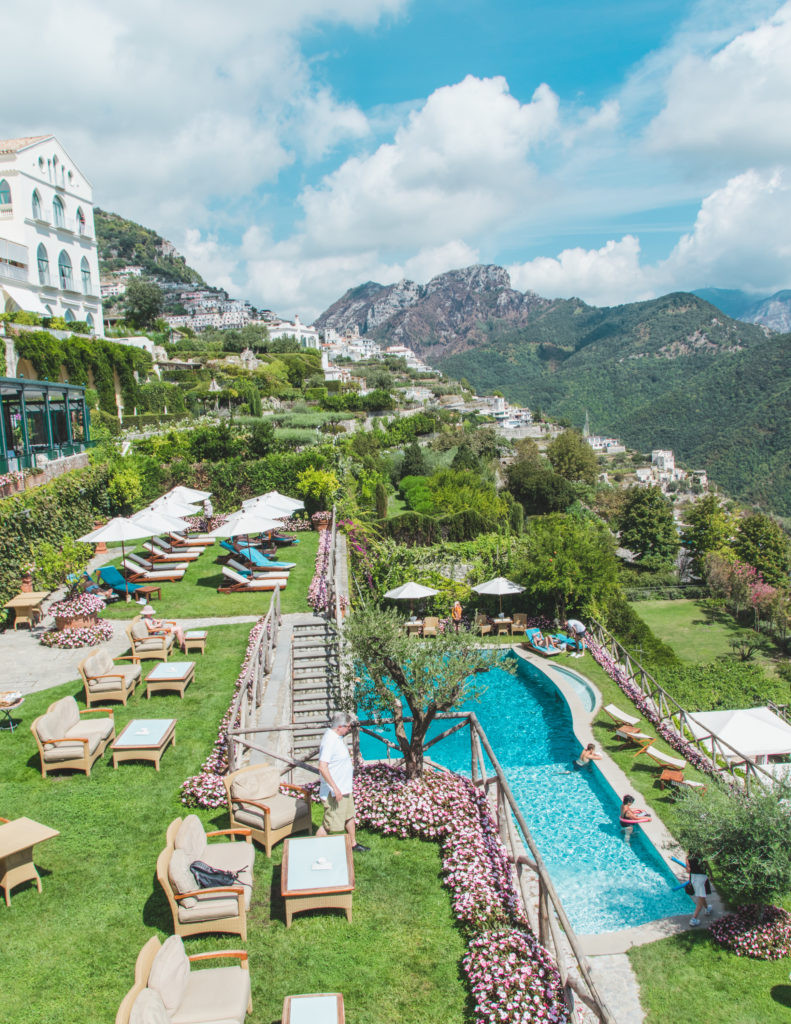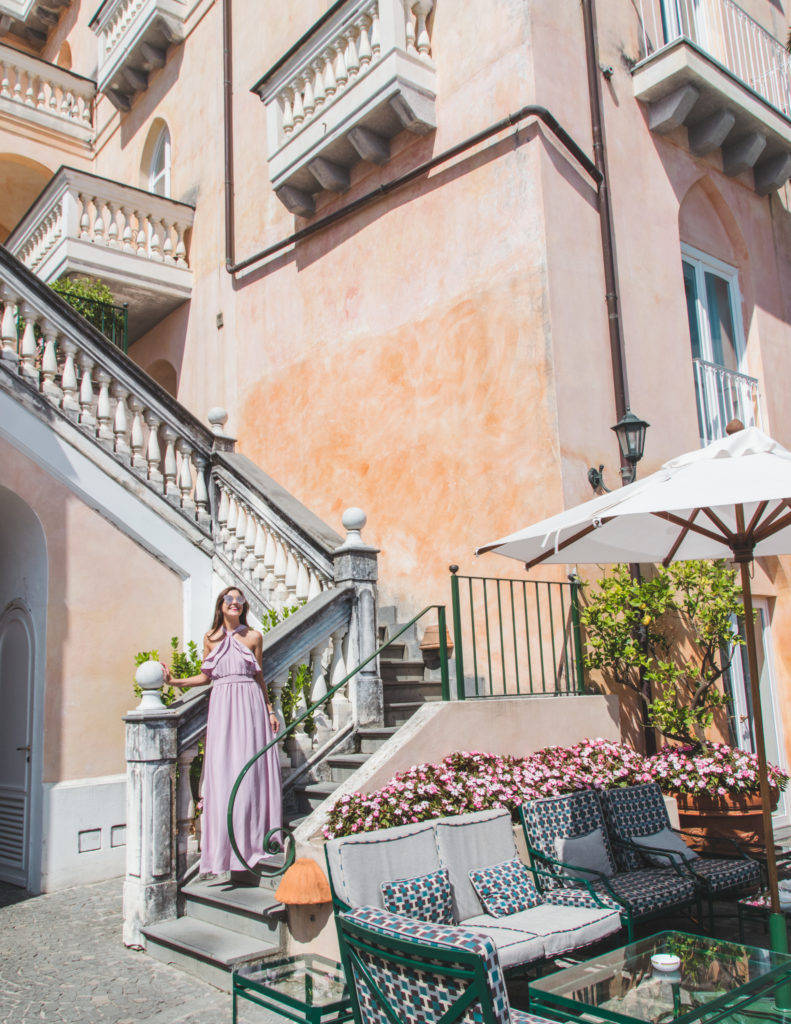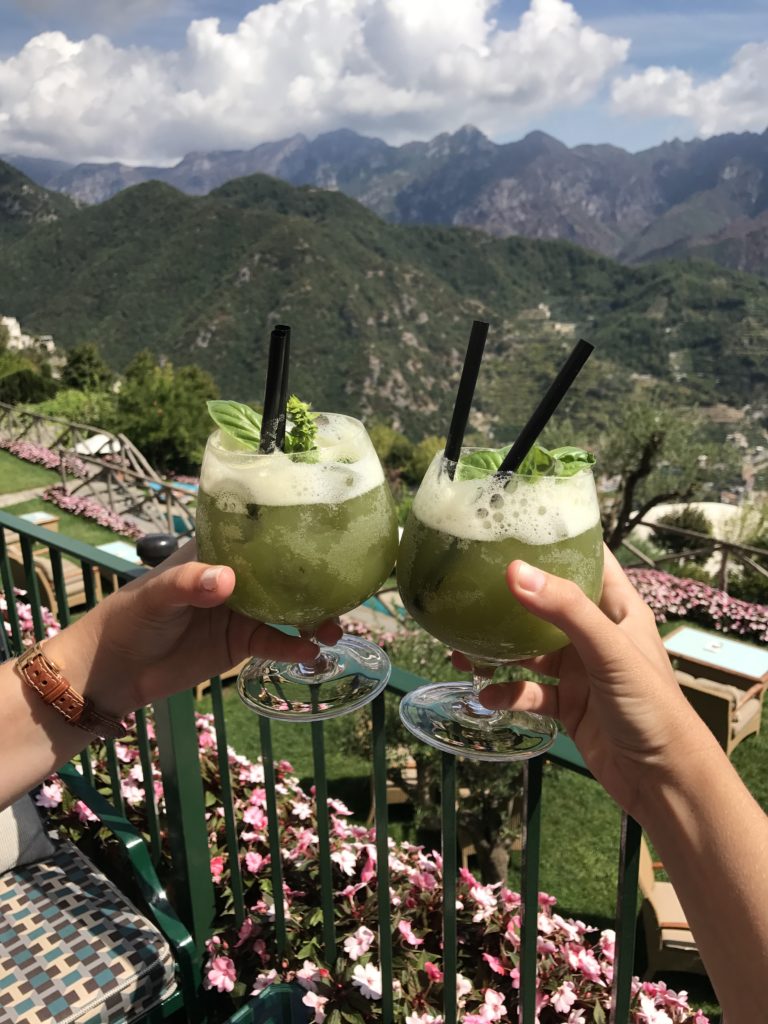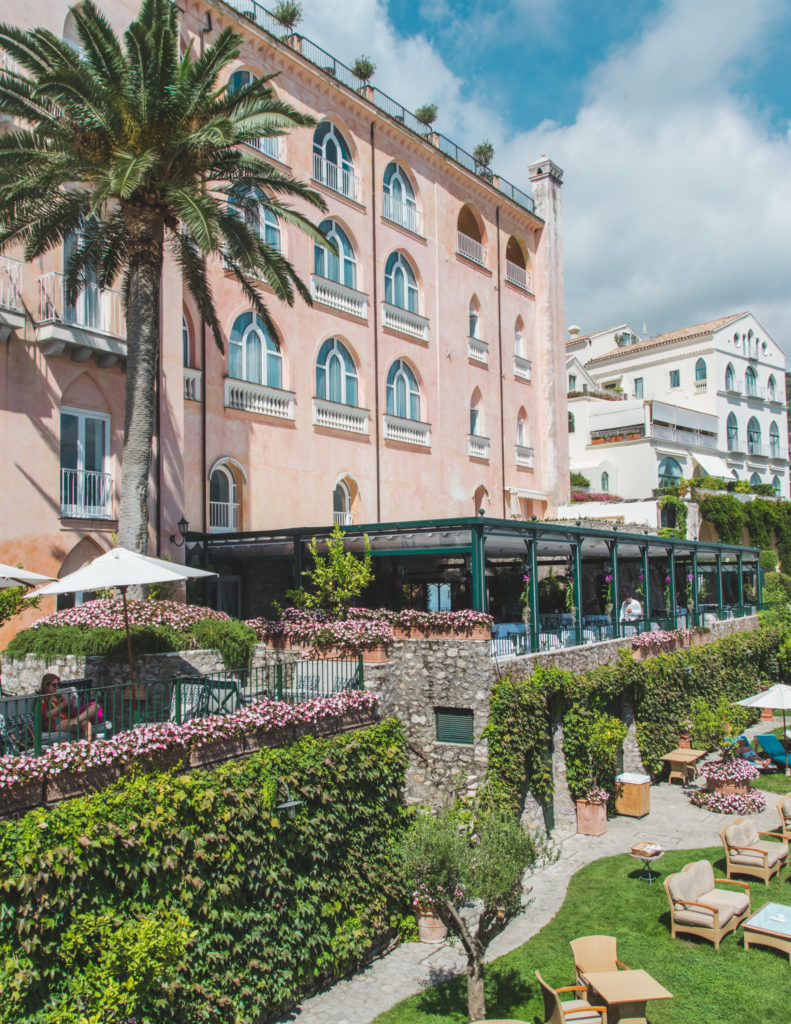 Please follow and like us: