It was during my graduate program at King's College London (KCL), that I had decided to book a weekend getaway to the beautiful Lisbon or Lisboa with one of my dearest friends from KCL. It was quite the trip for such a short space of time. So let me guide on how you can maximize your stay in this lovely and enchanting city, even if it is just for a weekend!
We arrived into Lisbon on the morning train from Faro; a quaint little town on the Algave coastline of Portugal. The train rode onto the magnificent 25 de Abril Bridge, often compared to the Golden Gate Bridge, and took us straight into the heart of the city. You even catch a glimpse of the Christo Rei (inspired by the iconic Christo Redeemer Statue of Rio de Janeiro) that welcomes you to this Portuguese gem.
The city's cleanliness, scrumptious seafood, deliciously fruity cocktails and its vibrant nightlife offered more than what we could had imagined. One day, I had even decided to take a small journey walking up, down and sideways across the intimate hilly alleyways of the city center to come across dozens of old-fashioned shops and trendy restaurants while meeting visitors from all backgrounds in this super friendly and warm city. I believe that getting lost in the heart of city can be one of the best ways to experience its charming culture.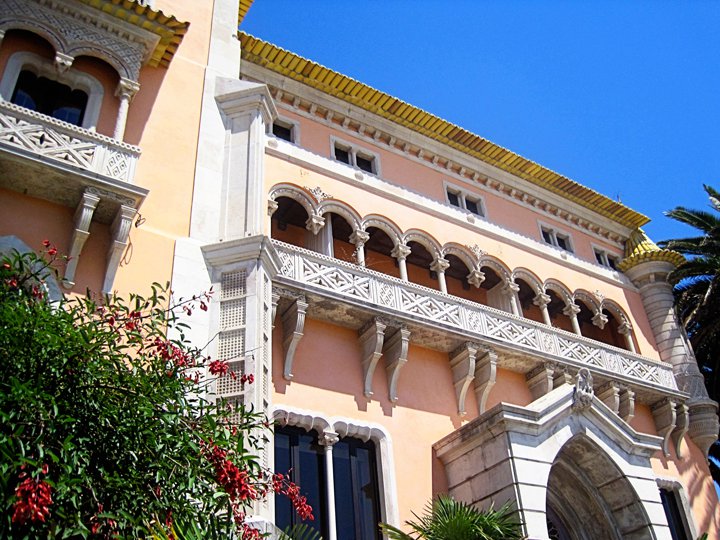 First off – where is the best place to stay for a young traveler who is on a budget and looking for some travel buddies?
As we were students and had little money to spare on luxury, we booked the top rated hostel in the city –  Yes! Lisbon Hostel and the experience was fantastic! It is one of the more modern and well-kept hostels that I have been to. Not only was it super clean, but the rooms were comfortable, the staff were awesome and we got a home-cooked tasty meal for a reasonable cost while making tons of new friends! There are also many tops hotels and lovely apartments in the city that you can find on Tripadvisor or Airbnb, but I recommend staying close to the Santa Maria Major neighbourhood for ease of access to Lisbon's lovely sights on a quick weekend trip.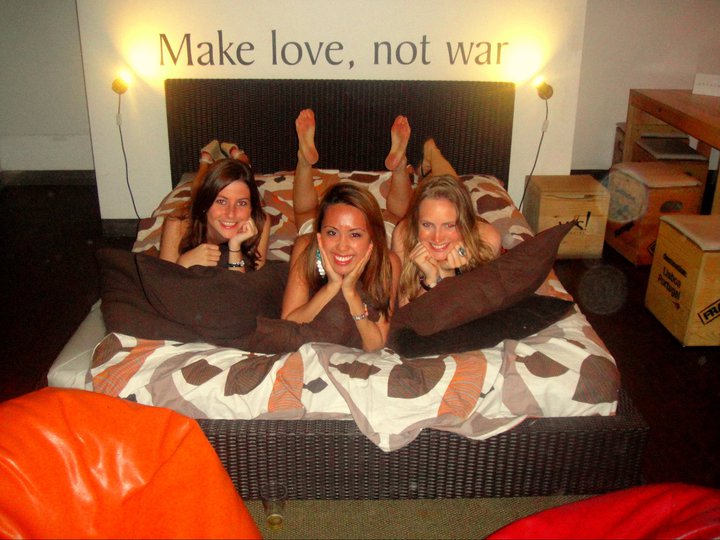 What are my top choices for sightseeing during a short weekend stay?
Day 1
Praça do Comércio (Terreiro do Paco)
As we had stayed in the Yes Lisbon Hostel, we were located literally steps away from the famous Praça do Comércio (english: commercial square), making it one of the first stops on our list! It is an absolutely huge and spacious square right on the waterfront, surrounded by dozens of lovely cafes. The square is also located right where you can catch a tram to any touristy destination of your choice. Fun Fact – It was once the site of the royal palace until the deadly earthquake of 1755, which destroyed the royal palace – reducing it to rubble.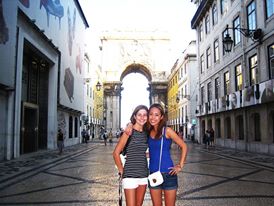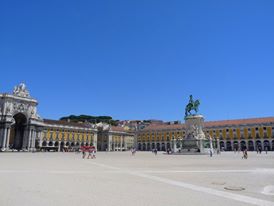 A few blocks inland from the Praça do Comércio, we roamed the neighbourhood of Chiado and stumbled upon a loud and vibrant protest in the Rossio Square. The square is known for its relaxing/ people-watching cafes where you can stop to have breakfast, lunch or a yummy coffee. However during our stay, it was time when I captured some of my favourite photographs, as the protestors had decorated the main status of Rossio Square in yellow fabric. Unfortunately, I do not remember their reason for doing so, but I am sure it was a good one! Also note that this is the square where you will catch the train to your next destination – Sintra!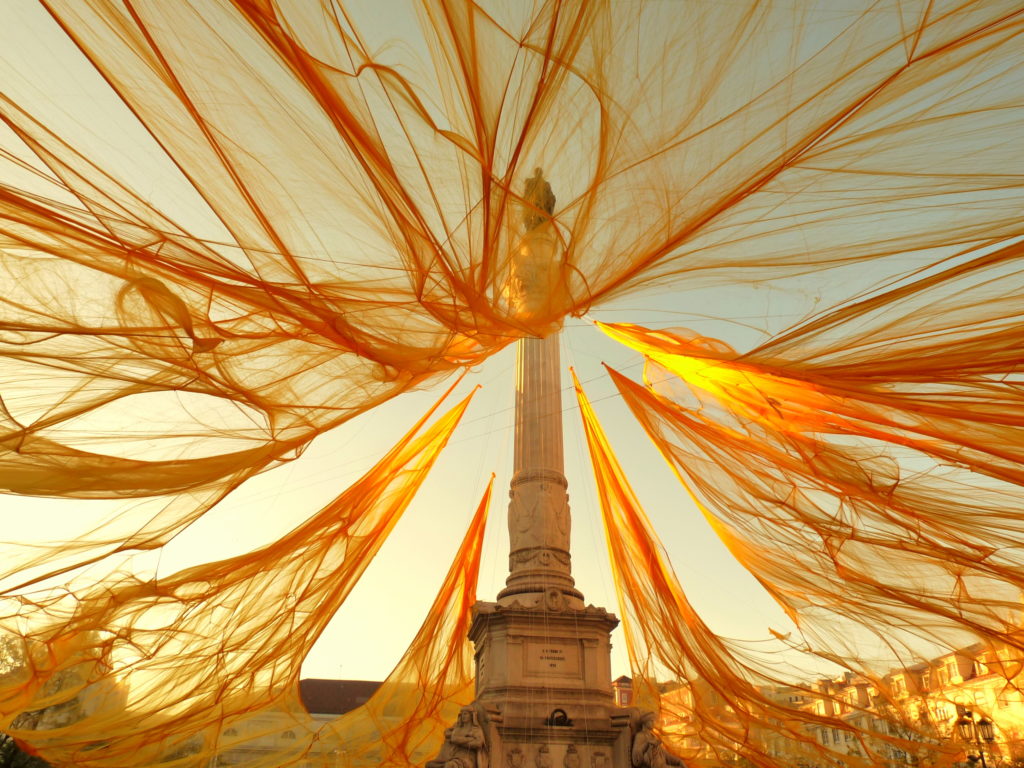 After catching the train from Rossio Square, you will arrive in Sintra. I very sadly did not make it to Sintra and Ihope you do not make the same mistake! Based on what I have heard and read, here is what I gathered on the amazing town of Sintra. Its many castles and historic mansions are set against a spectacular backdrop of lush hills. Sintra's many castles include the Palácio Nacional de Sintra, the hilltop and storybook Palácio da Pena, Quinta de Regaleira, the Castelo dos Mouros (Moorish Castle), and the Palácio de Monserrate. It sounds like a fairty tale town and I am definitely not missing out on it on my next visit to Lisbon.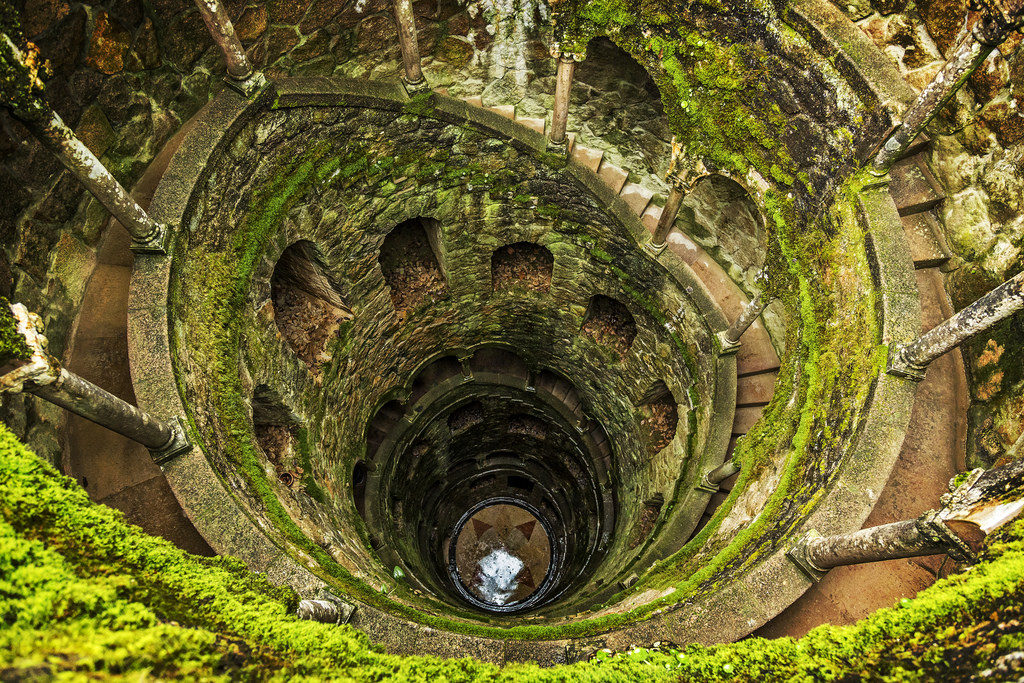 A night out on the town could not have been completed without visiting the Bairro Alto neighbourhood with its winding streets along the hills of Lisbon and amazing bars with the most delicious cocktails. The hostel we stayed at for sure had to take us to several of the bars in this area. Make sure and stop by as it is the happening place to be on a weekend Lisbon night.
Day 2 – Santa Maria de Belem
The Mosterio dos Jerónimos is one of the world's most remarkable UNESCO world heritage sites as it is a prominent example of the Portuguese Manueline style (Portuguese late gothic) and it was where the monks of the military-religious Order of Christ provided assistance to seafarers in transit. It was built in the 16th century to commemorate Vasco da Gama's trip to India, as he was the first European to reach India by sea. I unfortunately only explored the exterior and gardens of this remarkable structure, but a little bird recently told me that the visit to its church is free and you can skip the long queues by securing your ticket for the Monastery inside this same church.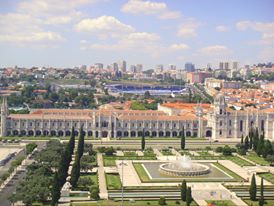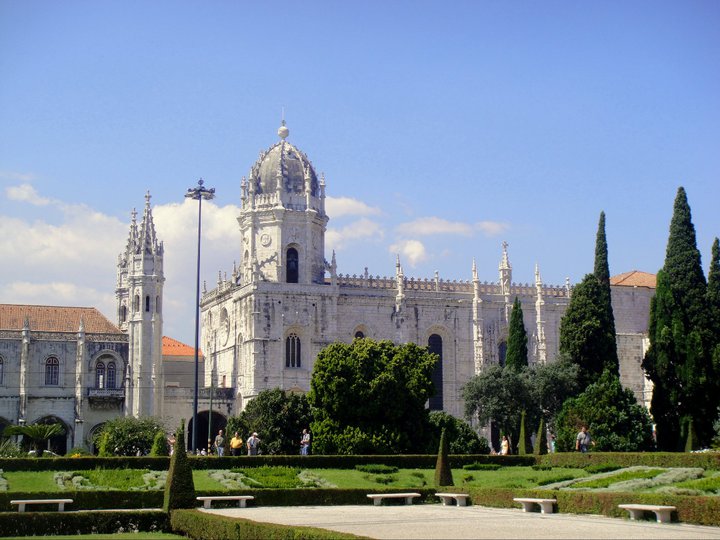 After exploring the Jerónimos Monastery, we made our way along the waterfront to the Torre de Belém, which is also classified as a UNESCO world heritage site as this iconic Byzantine and Gothic tower guards the entrance to Lisbon's harbor. The tower was also built in the early 16th century in a similar Portuguese Manueline style and is a quite a stunning site to see. I am pretty sure you have already seen dozens of photos of this majestic piece of history. It was a must see but we decided not to make the trek inside due to its large queues, so it may just be worth it to admire its picturesque style from the outside!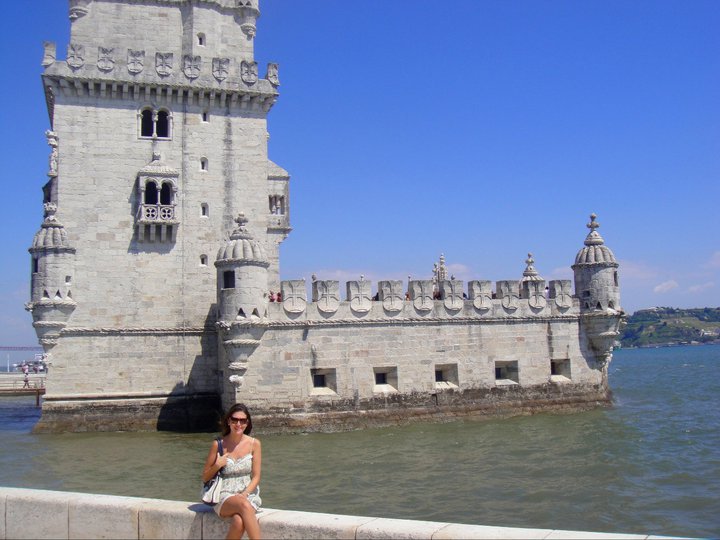 While in the Santa Maria de Belem neighbourhood, we took a quick stop at now my favourite little blue café in Lisbon– Pasteis de Belem. This adorable café is known as the top place in the city for the traditional Pastesi de Nata (custard tarts), based on the original recipe from Jerónimos Convent, so make sure to snag a few and sip on some delicious coffee to get the full experience. There so many desserts so we had to be wise with our choices! As it is the best pastry place in Lisboa, the lines will be long so be prepared to wait or visit it early on in the day.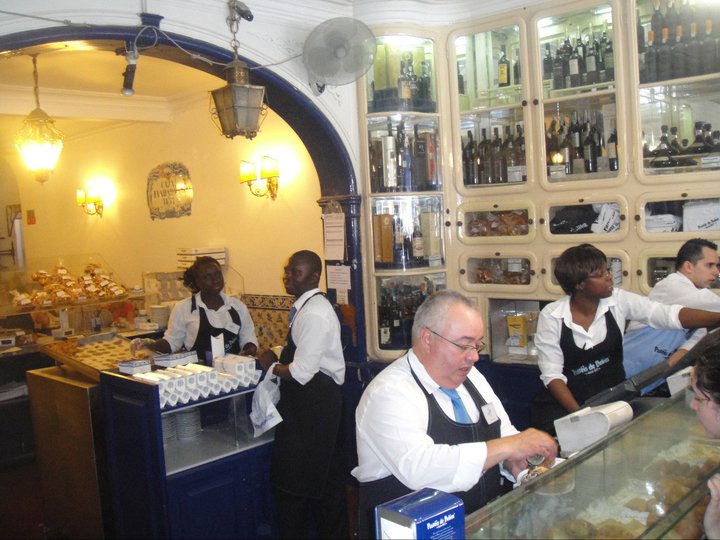 Here is some extra Lisboa Travel Tips:
1 – Book a place near to Santa Maria Maior neighborhood in Lisbon for ease of access to all my top rated sites to visit!
2 – If you are heading to Lisbon via Plane, I recommend using Portugal's local airline called TAP Portugal
3 – Another popular neighbourhood to visit in Lisboa is Alfama with its narrow alleyways, rich colours and impressive views all around.
4 – Lovely beach town very near to Lisboa that you can check out to get some fun in the sun – Cascais
5 – You have more than a weekend to spare and looking for a proper beach escape, check out Faro on the Algave coast or Porto in the north.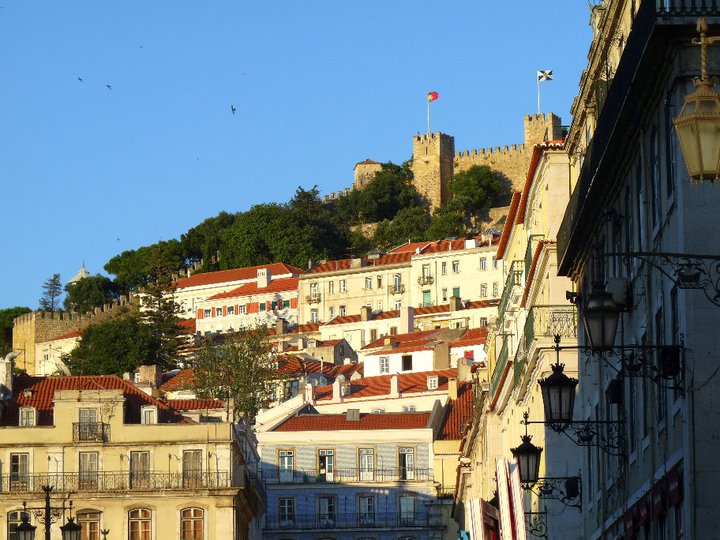 Please follow and like us: